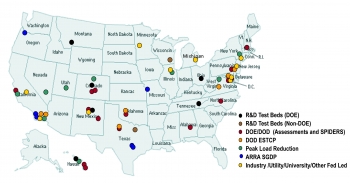 Federal programs, institutions, and the private sector are increasing microgrid development and deployment. The number of successfully deployed microgrids will verify the benefits and decrease implementation risks further expanding the market for microgrids.
The Energy Department has a comprehensive portfolio of activities that focuses on the development and implementation of microgrids to further improve reliability and resiliency of the grid, help communities better prepare for future weather events, and keep the nation moving toward a clean energy future.
Microgrid research and development (R&D) to advance foundational science and technology were defined jointly with stakeholder groups during two workshops held in 2011 and 2012. OE's microgrid program goals are to develop commercial scale microgrid systems (capacity of less than 10 MW) capable of reducing outage time of required loads by more than 98% at a cost comparable to non-integrated baseline solutions while reducing emissions by more than 20% and improving system energy efficiencies by more than 20% by 2020.
Key R&D activities undertaken by the Department's National Laboratories are in two focus areas:

Planning and design, addressing system architecture, monitoring and analysis, and system design; and
Operations and control, addressing steady-state control and coordination, transient-state control and protection, and operational optimization.

Industry partnerships for commercial viability and to meet community-defined resiliency objectives. A funding opportunity announcement (FOA No. DE-FOA-0000997) awarded more than $8 million in September 2014 to develop and test microgrid system designs with advanced controllers for technical feasibility and economic performance in meeting the Energy Department's program targets and the resiliency objectives of the communities.
State and regional partnerships to support communities in microgrid planning, design, and deployment for energy assurance. The partnerships are aimed toward helping communities become more adaptive and better prepared for power outages caused by severe weather and other events.
Currently, the Energy Department is working with other states on incorporating microgrids into energy assurance planning and implementation.
The Smart Power Infrastructure Demonstration and Energy Reliability and Security (SPIDERS) project is a Joint Capability Technology Demonstration between the Departments of Energy, Defense and Homeland Security that is focused on demonstrating a secure microgrid architecture with the ability to maintain operational surety through trusted, reliable, and resilient electric power generation and distribution on military installations. One key element of SPIDERS is standardization of the design approach, contracting, installation, security, and operation of these microgrids to support future applications. Three microgrids are being built, each with increasing capability and complexity, which will function as permanent energy systems at Department of Defense sites (Joint Base Pearl Harbor-Hickam, Fort Carson, and Camp Smith). The project will promote adoption of microgrid technology for the Department of Defense through implementation of the Energy Surety Microgrid™ design process that focuses on:

Energy reliability for critical missions
High readiness and immediately deployable technologies
Cybersecurity for the control systems