The EERE Small Business Program, in support of EERE acquisition staff, is committed to obtaining the best value in goods, services, and equipment. In a cost-effective, timely manner, we seek competition to the fullest extent possible and are dedicated to the highest standards of ethical conduct throughout the acquisition process.
We support the U.S. Department of Energy's socio-economic objectives by striving to award a fair portion of our total contracts to qualified small businesses, businesses owned by socially or economically disadvantaged individuals, and woman- and veteran-owned small firms. Our procurement office purchases goods and services for use by the major programs and offices of EERE.
What Do We Buy?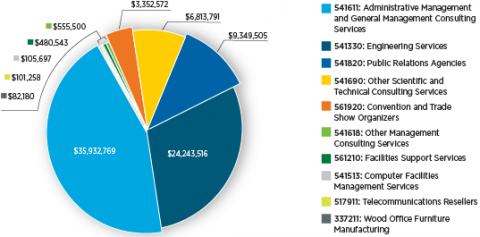 This graph shows the top ten small business classification codes used by business working with the Department of Energy in September 2015. The North American Industry Classification System codes are used by business and government to classify business establishments according to type of economic activity.
How Do We Buy?
EERE procures its acquisitions in various ways based on dollar value:
Micro-purchases—less than $3,500 and typically processed using Government VISA Purchase Card.
Simplified Acquisitions—between $3,500 and $150,000.
Contract actions—exceed $150,000 in value.
How Can Your Small Business Work with EERE?
Learn About EERE's Innovative Research, Trends, and Initiatives
Where Are the Opportunities?
Look through the DOE Acquisition Forecast for future prime and sub-contracting opportunities within the DOE and National Nuclear Security Administration.
Register for a free account with both FedBizOps and FedConnect to see what federal contracting opportunities are currently available in your industry.
Investigate EERE Programs
Additional Resources