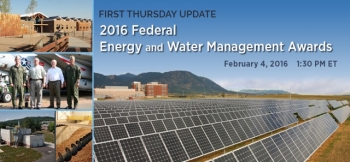 The U.S. Department of Energy's Federal Energy Management Program (FEMP) will present 2016 Federal Energy and Water Management Awards Updates, a new First Thursday Update webinar on February 4, 2016, from 1:30 p.m. to 2:30 p.m. ET.
This webinar will provide current information about this year's Federal Energy and Water Management Awards, which recognize individuals and organizations for significantly improving energy and water efficiency in government operations.
Register for this webinar to learn how to apply for this prestigious honor in 2016, including information about submission criteria and deadlines.
Participants of this webinar will:
Understand the purpose and history of FEMP's award program, the application criteria and guidelines, and timeline

Understand eligibility requirements, including coordinating with individual agency coordinators to finalize and submit nominations, and nomination best practices

Learn how to access application resources and use the FEMP Central nomination submission portal.
The instructor for this webinar is Jennifer Landsman, assistant manager for BCS Inc. supporting FEMP.
After completing a course evaluation, participants will receive a certificate of completion for this unaccredited webinar (continuing education units are not granted for First Thursday Updates).
FEMP First Thursday Updates are designed for federal energy and facility managers but are open to all individuals on the FEMP Training Search. 
There is no charge for this 60-minute training but advanced registration is required to obtain an Internet URL for the presentation. Registration for the broadcast will close on February 3, 2016.
For more information, visit the FEMP Training page. 
Requires Google Chrome, Firefox 4.0+, Internet Explorer 7.0+ or Safari, and the 
Adobe Flash 10+ plugin.