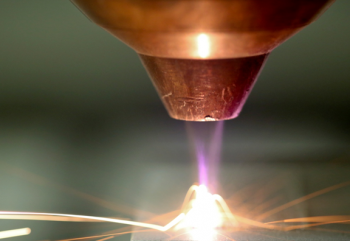 Deposition of Inconel coating on a steel substrate using laser additive manufacturing technology from DM3D. Photo courtesy of Oak Ridge National Laboratory
AMO Facilities are collaborative communities that provide participants with affordable access to physical and virtual tools and enable demonstration in targeted technical areas of manufacturing. Industry and, in particular, small and medium enterprises benefit from the personal exchange inherent in sharing common infrastructure and facility resources.
By networking technical experts from established equipment and materials suppliers, with other experts from diverse technical and manufacturing areas, AMO's Facilities work brings high-impact foundational technologies to full scale on multiple levels of the manufacturing supply chain and in a wide range of industry sectors. The Institutes listed below are part of the National Network for Manufacturing Innovation (NNMI). In addition, AMO leads DOE's participation in the national interagency Advanced Manufacturing Partnership (AMP).
Work at the Oak Ridge MDF focuses on improving and demonstrating new additive manufacturing and carbon fiber manufacturing technologies.
Multidisciplinary teams at the Hub explore ways to address challenges in critical materials, including mineral processing, manufacture, substitution, efficient use, and end-of-life recycling.
America Makes advances additive manufacturing technology and products, and serves as a nationally recognized additive manufacturing center of innovation excellence, working to transform the U.S. manufacturing sector and yield significant advancements throughout industry. America Makes was formerly called the National Additive Manufacturing Innovation Institute (NAMII).
This Innovation Institute will concentrate on issues related to manufacturing wide bandgap power electronics and will contribute to the creation of the National Network for Manufacturing Innovation (NNMI). Power America was formerly called the Next Generation Power Electronics National Manufacturing Innovation Institute.
This Innovation Institute will support clean energy applications by lowering the cost of advanced fiber-reinforced polymer composite materials by 50 percent, reducing the energy used to make composites by 75 percent, and increasing the recyclability of composites to over 95 percent within the next decade.