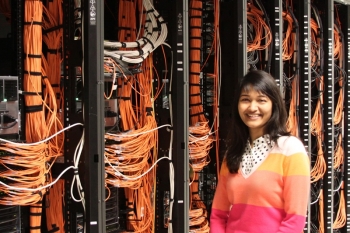 Dr. Tanzima Islam is a postdoctoral research staff member working in the Center for Applied Scientific Computing (CASC) division at Lawrence Livermore National Laboratory.
Check out other profiles in the Women @ Energy series and share your favorites on Pinterest.
Dr. Tanzima Islam is a postdoctoral research staff member working in the Center for Applied Scientific Computing (CASC) division at Lawrence Livermore National Laboratory. Born and raised in Bangladesh, she earned her undergraduate degree in Computer Science and Engineering from Bangladesh University of Engineering and Technology (BUET) in 2006. She then came to the U.S. for graduate studies and obtained her Ph.D. from Purdue University in May 2013. The focus of Dr. Islam's Ph.D. was developing fault-tolerance mechanisms for large-scale distributed systems, including High Performance Computing (HPC) environments. Since joining the lab in June 2013, she also has been working on developing tools and methodologies for identifying bottlenecks of large-scale simulations on different architectures. Dr. Islam also is the co-founder of the first-ever research club for women in Computer Science and Engineering department of her alma-mater BUET. This group encourages female undergraduate students to start thinking about research at an early stage by providing them with information about potential funding opportunities, conferences, and pairing alumni as mentors with senior and junior students of the department.
1) What inspired you to work in STEM?
My maternal grandfather is a Ph.D. in Chemistry and a celebrated scientist in Bangladesh. Growing up, listening to his stories about different scientists and how they shaped the course of this world must have sowed the seeds of interest in me. Later on, these little dream-seeds, as I call them, bloomed into aspiration. Also, most kids born and raised in a developing country such as mine, are motivated by their families to pursue careers that have an obvious socio-economic benefit. Since I already knew I wanted to "be like him" (my grandfather), STEM became the most obvious career choice for me.
2) What excites you about your work at the Energy Department?
The most exciting aspect of my work at LLNL is the fact that what I do is mission-driven. That is, it has practical use in the real world and others benefit directly from the piece of code I write. The two main aspects of my research are: making failure-prone large-scale supercomputers more reliable for running scientific simulations; and identifying reasons that hinder the performance of these codes. The knowledge that my efforts are vital in making supercomputing environments a transparent vehicle for advances in basic science is exciting!
3) How can our country engage more women, girls, and other underrepresented groups in STEM?
I believe early exposure to the fun side of science and math goes a long way in sowing "dream-seeds" in kids about STEM. This can be done by arranging hands-on science demonstrations where kids can do something cool such as basic chemical experiments or working with older kids to write software for switching the lights on or off with voice command. I also believe that pairing people working in STEM with school students in a mentor relationship will go a long way to promoting math and science. That way, kids can see STEM as a good experience and they will not be afraid or hesitant in pursuing the path that their mentor took. This is something we started doing in BUET recently. Although the club is in its infancy, the exponential growth of the club shows that the students consider such a mentoring program beneficial.
Also, another way to encourage anyone is by example. As a kid, I used to devour biographies of scientists who made a difference in this world and I remember being especially uplifted by the life stories told by my grandfather of Marie Curie and Irène Joliot-Curie. I think underrepresented groups should be exposed to the motivational life stories of leaders and achievers in their respective communities, better yet, from them directly since that way they will be able to relate to the experiences.
4) Do you have tips you'd recommend for someone looking to enter your field of work?
One of the great pieces of advice I received early on that helped me personally is to talk to people who are already in the field. Get to know what motivated them to pursue the path they chose and ask about their struggles. In short, find a mentor.
Learn programming so that you have a great tool in your arsenal if you decide to pursue any STEM related area. That way, you can "ask" your "friend" (computer) to do the long, time-consuming, and repetitive mundane work for you while you do the exciting work -- thinking, that is.
5) When you have free time, what are your hobbies?
I love reading books. I don't think there is anything more mentally stimulating than to envision something with your mind's eyes. That, and traveling because you learn so many things that you did not know. Apart from that, one of my new hobbies is horseback riding. Although I am still taking lessons, they say I am a natural :-)