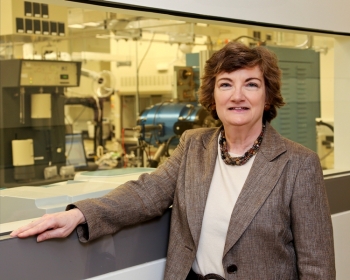 Michelle Buchanan is the Associate Laboratory Director for Physical Sciences at Oak Ridge National Laboratory (ORNL).
Check out other profiles in the Women @ Energy series and share your favorites on Pinterest. 
Michelle Buchanan is the Associate Laboratory Director for Physical Sciences at Oak Ridge National Laboratory (ORNL). In this role she is responsible for the Chemical Sciences, Materials Science and Technology, Physics, and the Center for Nanophase Materials Sciences research divisions. She is also the Program Manager for the Basic Energy Sciences Program at ORNL. Previously, Michelle served as the Director of the Chemical Sciences Division, Associate Director of the Life Sciences Division and Group Leader for Organic and Biological Mass Spectrometry at ORNL. She is an adjunct professor in the Department of Chemistry at the University of Tennessee. She has over 150 scientific publications and reports, holds two patents, and was editor of a book on Fourier transform mass spectrometry. She has held positions in the Analytical Chemistry Division of the American Chemical Society and the American Society for Mass Spectrometry. She is a Fellow of the American Chemical Society. Over the past decade, she has worked at the national level helping define basic research needs in a number of key energy-related areas. Michelle earned her B.S. in Chemistry from the University of Kansas and her Ph.D. in Analytical Chemistry from the University of Wisconsin-Madison.
1) What inspired you to work in STEM?
I had excellent science and math teachers in high school, but my chemistry professor, Clark Bricker at the University of Kansas, had the biggest impact on getting me started in a career in science. His introductory chemistry class immediately captured my attention, made it seem important and exciting, and inspired me to major in chemistry. He encouraged me to do undergraduate research, which clinched my decision to go into research as a career.
2) What excites you about your work at the Energy Department?
Energy affects everyone's lives and the need to assure a plentiful, affordable supply of energy and technologies to use it efficiently is a huge challenge. Our research at ORNL addresses virtually all aspects of energy generation, storage and use. Our staff and students from different fields of science work together to discover new materials and chemical processes that will be used to produce new fuels, batteries, lightweight materials for transportation, and other technologies that will help people now and in the future. The fact that our research can have such lasting impact is quite exciting and lends urgency to our work.
3) How can our country engage more women, girls, and other underrepresented groups in STEM?
All children are curious, and capturing and nurturing this curiosity as they go through school in math and science courses is very important. Often the connection between what we learn in classrooms and how it applies in the real world is not clear to students. Providing rich, meaningful experiences—examples in the classroom, field trips or hand-­‐on research-­‐-­‐can make math and science lessons more relevant to student's lives and thus make a huge difference in keeping students interested in STEM.
4)  Do you have tips you'd recommend for someone looking to enter your field of work?
Take every opportunity to learn about different areas of science.  My career has led me to work with people from many different disciplines-­‐-­‐ materials science, biology, environmental science, forensics, and others.  I have learned a lot from them and have contributed to their work as well. Working with people from different fields helps bring new perspectives in how to address problems, which is very important in science.
5) When you have free time, what are your hobbies?
My husband, who is also a chemist, and I enjoy gardening and cooking together. I have also been involved with youth in our area—for many years I taught dancing but now work with our local Boys and Girls Club. I also enjoy visiting middle and high school classes in the area to discuss careers in science.