Over the last few years, we've been in the midst of a clean energy revolution. New technologies, once unthinkably expensive to install and use, have become increasingly cost-competitive at a staggeringly fast clip. Today, the Energy Department released a new report called "Revolution… Now," which details five booming clean energy technologies -- plus a few other promising pieces of clean tech that will be key to solving major problems, like climate change. Let's take a quick peek at six charts that can help us understand these technologies.
1. Land-Based Wind Power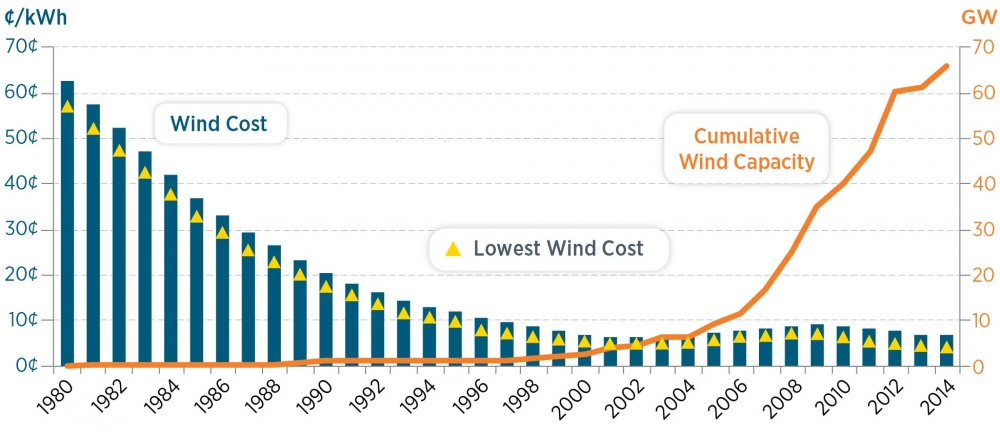 While the first large wind farms were installed 35 years ago, wind power really began to surge around the year 2000, as wind costs  dipped into the cost-competitive range of 5 to 10 cents per kilowatt hour (¢/kWh). Since then, wind installations have grown substantially, and now we have more than 65 gigawatts (GW) of installed capacity with another 13.6 GW of capacity in development.
So what does this mean? It means that wind is poised to overtake hydroelectric power as America's number one source of renewable energy.  Wind power accounts for 4.4 percent of total U.S. electric generation and reduces annual carbon dioxide emissions by 115 million metric tons, all while supporting 73,000 U.S. jobs. This is exciting stuff, and it's only going to get better. As wind turbines get taller, more affordable and more efficient, the Energy Department predicts that an additional 700,000 square miles of land will be suitable for wind development. That's more than twice the size of Texas.
2. Solar PV: Utility-Scale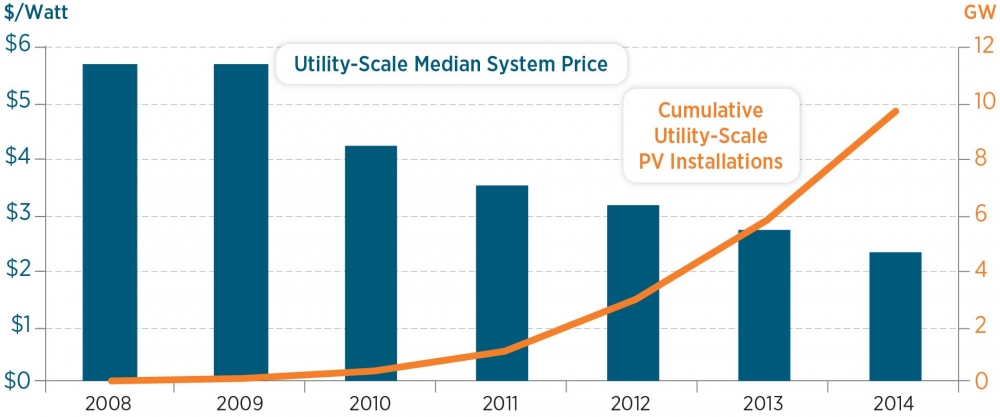 The rise of solar photovoltaic (PV) from novelty to mainstream energy source is one of the biggest clean energy stories of the past decade. Since 2008, the cost of installing utility-scale PV has dropped from $5.70 per Watt of generating power in 2008 to only $2.34 per Watt in 2014, a reduction of almost 60 percent. That enables it to be cost competitive with conventional generation in parts of the U.S.
In that same period of time, we've seen staggering growth in installed capacity, going from almost none in 2008 to nearly 10 GW in 2014 -- a trend that was jump-started by the Energy Department's Loan Programs Office. In the first half of 2015, 15 percent of new electric generation capacity of any kind -- renewable, nuclear or fossil -- was utility-scale solar power. With a whopping 27 GW of utility-scale solar projects currently in development, that surge is poised to continue in the coming years.
3. Solar PV: Distributed Generation

The story for distributed solar is just as exciting as it is for its bigger sibling. Distributed solar uses the same hardware as utility-scale solar generation but generates power where it is consumed, such as residential and corporate settings.
With dropping installation costs, the barrier to entry for folks with sunny roofs is decreasing rapidly. Though still slightly more expensive to install than utility-scale PV, distributed solar installation costs have been slashed in half since 2008, and this power source has grown from less than a GW of production to nearly 10 GW in late 2015, which represents almost 800,000 installations.
Historically, distributed PV has been privately purchased and installed. Recently, it has become increasingly popular for third parties, like utility companies, to purchase and install the solar panel systems on homes and businesses. The individual then benefits from lower utility rates while not being required to pay high up-front installation and hardware costs. Third-party ownership was responsible for more than 72 percent of U.S. residential solar installations in 2014!
4. LED Lighting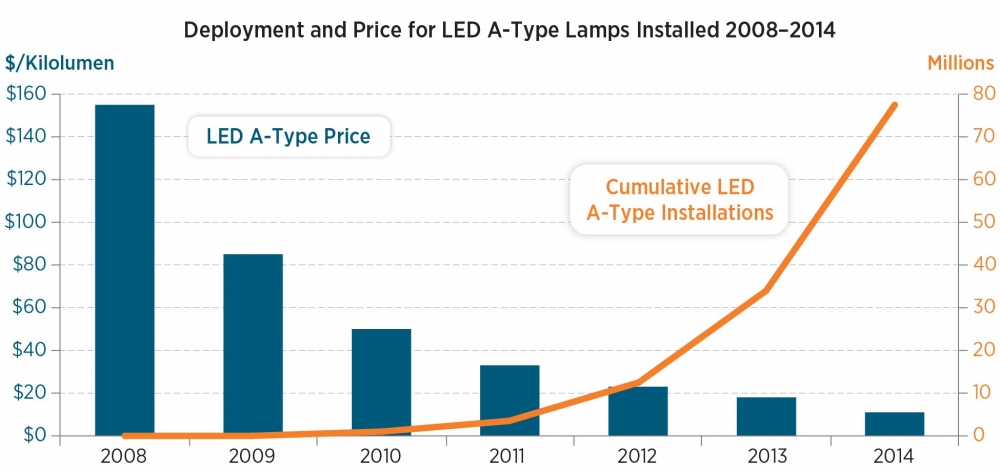 At this point, you may be noticing a trend: As technologies become cheaper to install and use, adoption and market penetration skyrockets. If we look at LED (light-emitting diode) installations, we see this story playing out in full effect.
Less than a decade ago, LEDs were a novel lighting option that few people understood. Now they're practically everywhere. Since 2008, installations of LED bulbs have exploded from less than 400,000 to more than 78 million and dropped in price by almost 90 percent. What's more, modern LED bulbs -- powered by technology developed here in the U.S. -- consume up to 85 percent less energy than their incandescent counterparts.
The Energy Department predicts that LEDs will account for 80 percent of all lighting sales by 2030, a trend that could cut our lighting electricity use in half while saving Americans $26 billion a year.  
5. Electric Vehicles

We're seeing more and more plug-in electric vehicles (also known as electric cars or EVs) on the street than ever before. Surging sales have brought nearly 300,000 EVs onto U.S. roads in just six years. Compared to traditional cars, EVs reduce greenhouse gas emissions by 48 percent on average. As renewable energy sources like utility-scale PV and wind continue to account for a greater portion of our electricity generation, EVs will help further scale back carbon pollution in America, making them an exciting part of our clean energy future.
Battery prices, which have historically limited EV affordability, are falling rapidly. The Energy Department is working with industry to aggressively cut battery costs in half by 2022. We have good reason to believe that this investment will be profitable, since over the last 20 years, the Energy Department's $1 billion in contributions to EV battery research and development has yielded $3.5 billion in economic value.
6. All Together Now
Here's one more chart that sums up just how far prices have fallen for each of these five technologies.

Each of these technologies has dropped between 40 percent and 90 percent in cost since 2008. LEDs in particular cost just one-tenth of what they did in 2008.
What's remarkable is not just the speed at which these technologies have become cost-competitive, but also how quickly they have been adopted across the country. We are proud of our many investments that have supported these promising technologies, and look forward to other advancements that will have an equally profound impact on our clean energy economy. Projects like the Supertruck Initiative, vehicle lightweighting and smart building technologies promise to bring even bigger energy and cost savings to the American people very soon.
Learn more about these technologies and a few others that are primed to transform our clean energy landscape here!