You are here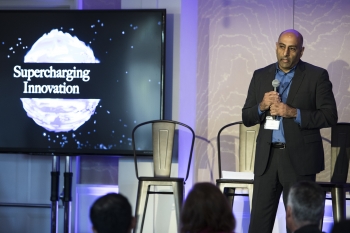 CEIC Director, Sanjiv Malhotra Delivers Keynote (credit DOE).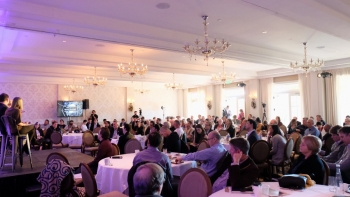 Shared Mission Attendees Listen to Panel Discussion
Blog post from Randy Abreu of the Clean Energy Investment Center, December 6, 2016.
A group of nonpartisan leaders representing family offices, private equity, and venture capital gathered in Santa Barbara, California on November 29 to discuss big ideas for amplifying collective impact through mission oriented investment. Their shared mission – to address environmental urgencies facing the United States and the world in a manner that stimulates the economy. And the Clean Energy Investment Center (CEIC) was invited to attend.
CEIC Director, Dr. Sanjiv Malhotra delivered a keynote address on fostering innovation and growth through well-developed public-private partnerships and new energy financing mechanisms. Attendees discussed ways to foster a successful environment for new energy technology innovations to guarantee American leadership in the coming climate solution economy. Those in attendance identified many different options available to them in this economy, but there was collective agreement that there is money to be made and there are jobs to be created through impact investment. Discussions explored different avenues to coordinate and allocate resources towards scaling proven solutions and fostering breakthroughs. The big ideas to catalyze this mission ranged from existing mechanisms to new processes and approaches that unlock the power of the network to create sustained impact.
The CEIC can help catalyze new investment by serving as a one-stop-shop resource at the Department of Energy (DOE). The CEICs online platform will soon be launched and provide access to leading experts and cutting-edge energy technology project information. CEIC looks forward to continued collaboration with the leaders convened in Santa Barbara and to being a bridge for private investors to access and unlock the DOE's technology portfolio to create jobs, improve domestic energy security, and support progress toward international climate goals.
Randy Abreu is Special Advisor for the Clean Energy Investment Center.
The Clean Energy Investment Center is part of the Office of Technology Transitions, whose mission is to expand the commercial impact of DOE's portfolio of Research, Development, Demonstration and Deployment (RDD&D) activities over the short, medium and long term.