You are here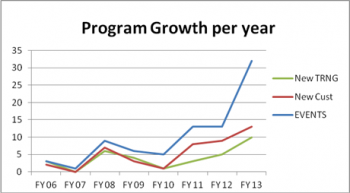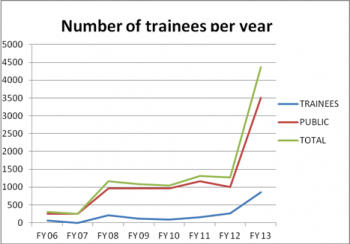 In 2013 the program operated above the 6 year average and 6 year high, and participation increased by adding 13 new program locations.
Southeastern Power Administration and its partners conducted 32 training events which directly impacted 855 trainees, and our outreach efforts promoted energy efficiency and renewable energy to an estimated 3505 customers.    
SEPA sponsored $94,262 in EERE training this year. 
Since 2005 Southeastern's partners have conducted 82 energy efficiency events reaching 1757 trainees and 9049 customers.
The following customers took advantage of our energy efficiency support this year:
Berkeley Electric Cooperative
4-County Electric Power Association
Central Electric Power Cooperative
Choctawhatchee Electric Cooperative
Coast Electric Power Association
Cobb Electric Membership Cooperative
Coweta-Fayette Electric Membership Cooperative
Diverse Power Inc, an Electric Membership Cooperative
Jackson Electric Membership Cooperative
North Carolina's Electric Cooperatives
Old Dominion Electric Cooperative
Power South Energy Cooperative
Prince George Electric Cooperative
Rappahannock Electric Cooperative
Santee Cooper Power
Seminole Electric Cooperative
Snapping Shoals Electric Membership Cooperative
South Mississippi Electric Power Association
The Electric Cooperatives of South Carolina
Tri-County Electric Membership Cooperative
VA, MD & DE Association of Electric Cooperatives
West Florida Electric Cooperative Association