You are here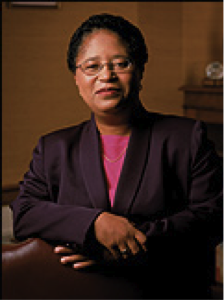 The Honorable Shirley Ann Jackson, Ph.D., is the 18th president of Rensselaer Polytechnic Institute of Troy, New York, and Hartford, Connecticut, the oldest technological research university in the United States. She was elected to the Brookings Board of Trustees in 2000. Described by Time Magazine as "perhaps the ultimate role model for women in science," Dr. Jackson, a theoretical physicist, has held senior leadership positions in government, industry, research, and academe.
Since 1999, Dr. Jackson has led an extraordinary transformation at Rensselaer Polytechnic Institute. Her tenure has been marked by a tripling of research awards and a tripling of applications to the freshman class, the construction of state-of-the art research platforms, and innovations both in the curriculum and student life. An ambitious strategic effort known as the Rensselaer Plan—recently updated as the Rensselaer Plan 2024—has remade Rensselaer into a top-tier technological research university.
In 2009, President Barack Obama appointed Dr. Jackson to the President's Council of Advisors on Science and Technology (PCAST), which assists the White House in policy formulation in the many areas of science, technology, and innovation that are crucial to strengthening the economy. She is co-chair of the President's Innovation and Technology Advisory Committee (PITAC) within PCAST. In 2012, Dr. Jackson was elected as an international fellow of the British Royal Academy of Engineering. She is member of the National Academy of Engineering, the American Philosophical Society, and the American Association for the Advancement of Science (AAAS). She is a past president of the AAAS and former chairman of the AAAS board of directors. She is also a fellow of the American Academy of Arts and Sciences and the American Physical Society, as well as a regent of the Smithsonian Institution and a member of the board of the Council on Foreign Relations. She is a life member of the M.I.T. Corporation. Dr. Jackson is a director of several major corporations, including FedEx, IBM, Marathon Oil, Medtronic, and PSEG. She was chairman of the board of NYSE Regulation.
Before taking on the leadership of Rensselaer Polytechnic Institute, Dr. Jackson was appointed chairman of the United States Nuclear Regulatory Commission (NRC) by President William Jefferson Clinton in 1995 and served for four years, reorganizing the agency and revamping its regulatory approach. While at the NRC, she also spearheaded the formation of the International Nuclear Regulators Association and served as the group's first chairman. Before leading the NRC, she was a theoretical physicist at AT&T Bell Laboratories and a professor of theoretical physics at Rutgers University.  Dr. Jackson holds an S.B. in physics and a Ph.D. in theoretical elementary particle physics from M.I. T., as well as 52 honorary doctoral degrees.