You are here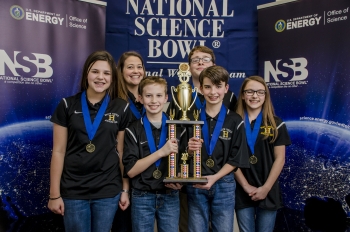 1st Place Heath Middle School Team 2 (left to right, front row) - Ava Kelly, Jacob Harris, Mason Hancock, and Tylee Haws; Back row - Coach Brandy Roberts and Xander Norment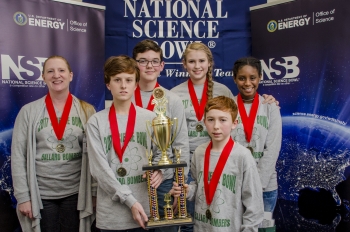 2nd Place Ballard County Middle School Team 1 (left to right, front row) - Andy Paul and Dustin Howle; Back row - Coach Sue Ellen Morris, Nathan Fithen, Grace Horn, and Alicia Smith
PADUCAH, Ky. – Heath Middle School won the U.S. Department of Energy's (DOE's) West Kentucky Regional Science Bowl February 3 during competition among 18 middle school teams. With the regional win, Heath Middle School will advance to represent western Kentucky in the middle school competition at DOE's National Science Bowl® April 27 through May 1 in Washington, D.C.
At the national competition, Heath Middle School will compete, along with the winners of the high school regional competition to be held February 17, in the same fast-paced question-and-answer format as the regional competitions. The middle school team also will compete in an electric car competition, and all of the students will visit national monuments and museums.
Ballard County Middle School finished second and Lone Oak Middle School finished third in the regional competition held on the University of Kentucky College of Engineering—Paducah Campus at West Kentucky Community and Technical College.
"I am very thankful for DOE to offer this opportunity to the Einsteins of the future," said Ava Kelly, 7th grade student at Heath Middle School. "This is my second year at this competition. It will be exciting to go to Washington to compete."
Other middle schools that competed include: Cairo Junior High, Calloway County Middle, Henderson County North Middle, Jonesboro Elementary, Massac County Junior High, Murphysboro Middle, New Covenant Christian Academy, Paducah Middle, and Reidland Middle Schools.
The DOE National Science Bowl® challenges middle school students in their knowledge of life science, physical science, Earth and space science, energy, math, and general science. Middle school teams consist of four students, one alternate, and a teacher serving as an advisor and coach.
Sponsors of this year's competition include DOE, the University of Kentucky College of Engineering—Paducah Campus, the Paducah Area Chamber of Commerce, Petter Business Systems, Fluor Paducah Deactivation Project, Paducah Economic Development, Pro2Serve, Beltline Electric, Ballard Economic Development, Paducah Water, Morsey Constructors, HealthWorks Medical, Geo Consultants, Murtco, Swift & Staley Inc., HDR Engineering, Chase Environmental Group, Pepsi Mid-America, and Lakeland Spring Water*. More than 100 volunteers serve as moderators, judges, technical advisors, and score keepers.
"The DOE Regional Science Bowl competition gets better every year," said Heath Middle School coach Brandy Roberts. "Thank you so much to all of the volunteers who made today so wonderful for all of the students. We are excited to head to Washington and ready to keep learning and growing."
DOE's Office of Science manages the NSB Finals competition. More information is available on the NSB Web site: http://www.science.energy.gov/wdts/nsb/.
# DOE #
* Listing of participating organizations does not denote or imply endorsement by the Department of Energy, the United States Government, or any affiliated entity.