You are here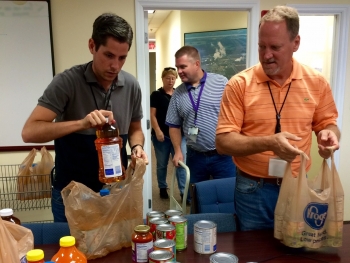 Front, left to right: Tyler Hicks and Rob Swett from DOE's Portsmouth/Paducah Project Office in Lexington pack non-perishable items for donation to local food pantries.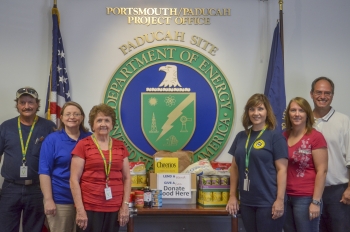 Fed Feeds Families at Paducah provided food to River City Mission and Family Services Society. Left to right: Allen McGill, River City Mission; Jennifer Woodard, DOE; Shirley Barlow, River City Mission; Pam Truitt, Family Services Society; Christa Dailey, Pro2Serve; Steve Christmas, Fluor Paducah Deactivation Project.
LEXINGTON, Ky—Workers at the U.S. Department of Energy's (DOE) Portsmouth/Paducah Project Office (PPPO) in Lexington, Kentucky – together with its two gaseous diffusion plants in southern Ohio and western Kentucky – recently collected a total of 13,958 pounds of food for charity pantries in their local communities.    
DOE and contractor employees at the Lexington office and DOE's two former uranium enrichment sites currently undergoing cleanup at Piketon, Ohio (Portsmouth Site) and Paducah, Kentucky, made the donations as part of the federal government's 2016 Feds Feed Families campaign. The donated food was distributed to local organizations to help needy families during summer months when donations typically decline and needs increase.
Pam Truitt, Executive Director of Family Service Society, Inc., said the food received through the Feds Feed Families is important to help the community, children, veterans, and families in Paducah and McCracken County, Kentucky. "During the summer months, many children lose access to the free school lunch program, which places more demand on our food supply," she said.
Workers at the Paducah site collected 4,411 pounds of food. As part of its effort, the site hosted an employee cookout where employees could toss a pie in the face of a willing federal employee by donating 20 pounds of food. "The donations to Feds Feed Families help keep our community food pantries stocked," said Jennifer Woodard, DOE Paducah Site Lead.  "We're pleased to play an important role in strengthening our community by providing this food."
Ohio's Portsmouth Site collected 8,733 pounds of food. "We would like to thank those who donated, prepared and participated in our plant site fish fry cookout, ice cream social and taco functions, making them such a wonderful success," said Dewintus Powell, who coordinates the effort at the site. "It was a great opportunity to help those less fortunate in our surrounding communities."
Rounding out the local effort, the Lexington PPPO office donated 814 pounds of food to Lexington area charities. "The PPPO pulled off another fantastic Feds Feed Families campaign in 2016," Susan Sparks, who coordinates the drive for DOE, told workers at the end of this year's drive. "Thanks to all who participated, you have really made a difference in our ability to give back to the community and help those in need."
# DOE #