You are here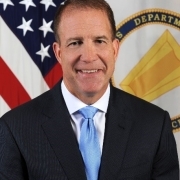 Mr. Lushetsky is an experienced senior executive, having held positions in both the private and public sectors related to innovation, development, commercialization, and deployment of clean energy and other advanced technologies. As the Chief Operating Officer for the Department of Energy's Office of Energy Policy and Systems Analysis, he is responsible for all budget, human resources, and administrative operations to support the organization's mission.
Mr. Lushetsky previously served as the Director of Strategic Programs for the Office of Energy Efficiency and Renewable Energy (EERE).  Reporting directly to the Assistance Secretary, he had responsibility for key cross-cutting programs and activities to strengthen U.S. energy manufacturing and commercialization and open new international markets for U.S. businesses.
Mr. Lushetsky served as the founding Executive Director of the Army's Energy Initiatives Task Force (EITF).  In this position, he led a team in the development of a 1 GW portfolio of cost-effective renewable energy projects implemented through competitive procurements and industry partnerships that enhanced energy security on U.S. Army installations.  Mr. Lushetsky received the Medal for Distinguished Civilian Service from Army Secretary John McHugh for his leadership and contributions to the EITF.
Mr. Lushetsky was previously the Director of DOE's Solar Energy Technology Program, where he was one of the main architects of the "Sunshot" program to make solar energy widely affordable by 2020.  He started the PV Manufacturing Initiative to strengthen U.S. industry manufacturing competitiveness.  He also oversaw the award of major grants under the DOE Advanced Battery Manufacturing Initiative for U.S. manufacturing of electric vehicle batteries and drivetrains.
Previous to his government service, Mr. Lushetsky was with Corning, Inc. where he held a number of senior positions with responsibility for business operations, research, and strategy and market development.  He also initiated and managed multi-million dollar venture capital investments, strategic partnerships and other initiatives to expand the company's opportunities in new markets and technologies.
Mr. Lushetsky holds an MBA in International Business from George Washington University and an M.S. and B.S. with High Honors in Engineering Science from the University of Florida.