You are here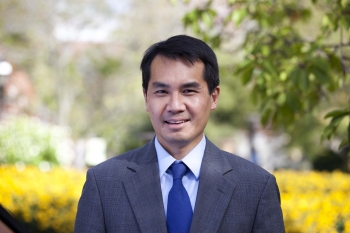 Hugh Chen is the Deputy Director for Finance, Incentives, and Program Analysis within the Office of Energy Policy and Systems Analysis (EPSA) at the U.S. Department of Energy. Within EPSA, Hugh leads an office that provides independent analysis on energy-related markets, policies, and investments that support the nation's energy goals. 
Prior to joining EPSA, Hugh was the Director of Program Analysis and Evaluation (PA&E) within the Office of the Chief Financial Officer (CFO). At PA&E, Hugh was responsible for goals, performance, and investment decision analysis across DOE's efforts in clean energy, national security, and basic research. 
Prior to DOE, Hugh spent five years in the Pentagon as a Senior Analyst with Cost Assessment and Program Evaluation (CAPE) in the Office of the Secretary of Defense (OSD). He led analytical teams into Iraq and Afghanistan to assess intelligence operations and drive DOD investment decisions. In 2004, Hugh was an American Association for the Advancement of Science (AAAS) Fellow in the Defense Department. 
Before entering government, Hugh was a post-doc at MIT, where he received his Ph.D. in Climate Physics and Chemistry in 2003. His work focused on estimating the sources and sinks of greenhouse gases such as carbon dioxide and methane. He has a B.S. in Chemistry from Stanford University.