You are here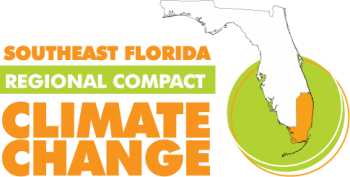 The Southeast Florida Regional Climate Change Compact was executed by Broward, Miami-Dade, Monroe, and Palm Beach Counties in January 2010 to coordinate mitigation and adaptation efforts across county lines. The Compact represents a new form of regional climate governance designed to allow local governments to set the agenda for state and federal agencies to engage with technical assistance and support. │ Image courtesy of the Southeast Florida Regional Climate Compact.
Climate Action Progress and Plans
The Southeast Florida Regional Climate Change Compact established a Climate Action Plan as a strategic framework for reducing greenhouse gas emissions and adapting to the effects of climate change in the region. The plan features 110 recommendations for implementation during the initial 5-year period, and individual Compact counties have established long-term emission reduction goals, including reductions of up to 80 percent of 2010 levels by 2050.
Under the Climate Action Plan, the Compact counties have conducted analyses of regions to sea level rise and a health impact assessment of sea level rise and heat waves, established a Shoreline Resilience Working Group and Sea Level Rise Task Force, and set goals for incorporating renewable energy and reducing energy use.
For more information, see the Southeast Florida Regional Climate Change Compact website and the Compact's Regional Climate Action Plan.