You are here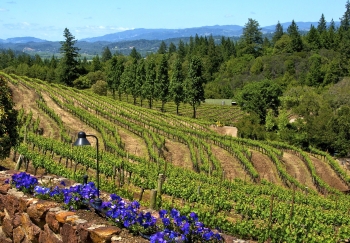 In 2005, nine cities and the County of Sonoma adopted a bold goal of a 25 percent reduction in greenhouse gas emissions from 1990 levels by 2015. Then in 2009, the Sonoma County Regional Climate Protection Authority (RCPA) was created as a clearinghouse for efforts to reduce greenhouse gas emissions, becoming the nation's first local government agency created specifically to address climate change. │ Photo courtesy of the Sonoma County Regional Climate Protection Authority.
Climate Action Progress and Plans
The RCPA has pursued goals centered on energy and water, transportation, and land use by collaborating with partners, pooling resources, and working across silos. Regional highlights include spurring the creation of large solar PV projects and the deployment of electric vehicle fleets and chargers through participation in the biggest government fleet deployment in the nation. RCPA's financial innovations include programs to facilitate customer energy and water efficiency such as PACE (Property Assessed Clean Energy) financing and the Pay As You Save (PAYS®) on-bill pilot program.  In 2014, Sonoma Clean Power became the largest community choice aggregation program in California, providing power at lower cost and a 33% lower emission rate – as well as a 100 percent local renewable option. 
Significant progress to plan for climate adaptation was also made in 2014, with the Climate Hazards and Vulnerabilities Report that the RCPA published along with a coalition of natural resource managers, policy makers and scientists. Specific opportunities to reduce vulnerability to climate impacts are being pursued through partnerships working on health and equity, better management of water supply and flood control through improved modeling, monitoring, and forecasting, and better decision making around natural capital using countywide LiDAR to characterize the topographic, physical, and biotic features of Sonoma County that enhance resilience.
The RCPA is currently working on a community wide Climate Action Plan called Climate Action 2020 to set new priorities for programs and targets for 2020 and beyond. The RCPA is also busy launching plans that will lead the way to a significant shift in energy use and transportation modes across Sonoma County.
For more information on the Sonoma County RCPA and its Energy & Sustainability Initiative, see the Sonoma Country Regional Climate Protection Authority website and the RCPA Mission, Goals and Objectives.