You are here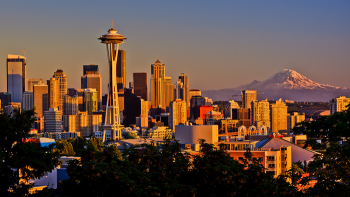 The City of Seattle has long been at the leading edge of environmental innovation. Seattle has been recycling for over 25 years and today has one of the highest recycling and composting rates nationwide. In 2005, Seattle City Light became the first electric utility in the nation to be carbon neutral. Recently, Seattle was recognized as the "most sustainable city in the nation" by STAR communities with a 5-STAR rating and the highest score to date. │Photo courtesy of University of Washington Department of Biochemistry.
Climate Action Progress and Plans
The Seattle Climate Protection Initiative has the bold goal of reaching zero net greenhouse gas emissions by 2050, with an interim goal of 58 percent below 2008 levels by 2030. Emissions have declined by about 4 percent overall and by 22 percent per person between 1990 and 2012 while Seattle's population has grown 23 percent and jobs have increased 14 percent. The City conducts community greenhouse gas inventories about every three years to monitor progress and inform ongoing climate action planning.
A key component of the Initiative is the Climate Action Plan (CAP) established in 2013. Seattle's CAP establishes a coordinated strategy that puts the City on the path to carbon neutrality and climate preparedness, while also supporting goals such as building vibrant neighborhoods, fostering economic prosperity, and enhancing social equity. 
Climate Action Plan implementation highlights include the following:
Launching a bike share station with over 500 bikes and 50 stations
Building separated and protected bike lanes
Implementing a building energy benchmarking program with a 99 percent compliance rate
Incentivizing energy conservation retrofits in 2575 single-family homes, 883 multi-family units, 46 small businesses, 16 municipal buildings, and more than 1.5 million square feet of large commercial space
Maintaining one of the greenest fleets in the nation saving 9,000 gallons of petroleum
 
Future goals include reducing vehicle miles traveled 20 percent and reducing residential building energy use by 20 percent by 2030, and reducing methane emissions from landfills by half by 2020.
For more information, see the websites for the City of Seattle and its Office of Sustainability and Environment.