You are here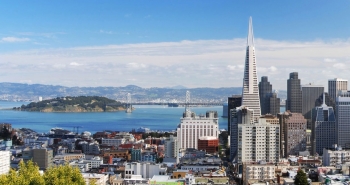 To meet the challenge of climate change, San Francisco is working with residents, businesses, community organizations, and state and federal agencies to create innovative programs and policies.
Climate Action Progress and Plans
San Francisco has ambitious climate change prevention and preparedness goals. The City has successfully reduced greenhouse gas emissions by 23 percent below 1990 levels, even as its economy and population have grown. San Francisco's Municipal Code calls for substantial reductions in greenhouse gas emissions:
25 percent below 1990 levels by 2017
40 percent reductions by 2025
80 percent by 2050
The city aims to reduce emissions through zero waste (sending no trash to landfills or incinerators), having 50 percent sustainable trips, and achieving 100 percent renewable energy.
For more information, see the San Francisco Climate Action Strategy website.