You are here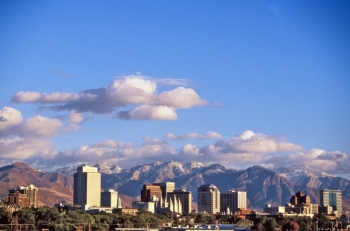 Salt Lake City, the capital of Utah, blends snowy mountain ranges with an urban downtown. Known historically as the "Crossroads of the West," Salt Lake City today is a major economic center in the Great Basin and a hub of tourism. │ Photo courtesy of University of Utah Department of Mathematics.
Climate Action Progress and Plans
Since 2008, Salt Lake City's Wasatch Regional Climate Response program has worked to reduce greenhouse gas emissions and enhance climate resilience.  The program has established a carbon footprint reduction plan, a greenhouse gas inventory, a clean air challenge aimed at reducing vehicle miles traveled in Salt Lake City, and has revised the City's sustainable code.
The Wasatch Regional Climate Response program sets a number of goals, including requiring all new City government buildings to be net-zero facilities, decreasing total building energy use in the City by 5 percent, and generating 10 megawatts of solar energy in the community by 2015. In addition, Salt Lake City aims to reduce greenhouse gas emissions by 20 percent below 2008 levels by 2020, 50 percent below 2020 levels by 2040.
For more information on Salt Lake City and the Wasatch Regional Climate Response, see the  Salt Lake City website and the SLCgreen Sustainable City Dashboard.