You are here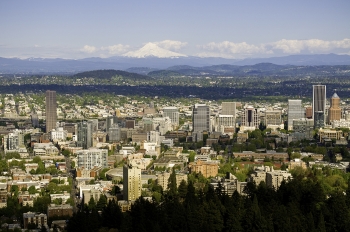 The City of Portland, Oregon, lies between the Pacific Ocean and Cascade Mountains in the Pacific Northwest, and is often recognized as one of the most environmentally conscious cities in the world. Portland also has a thriving music and arts scene, more breweries than any other city in the world, and an ideal climate for growing roses, earning it the nickname "Rose City." │ Photo courtesy of the City of Portland.
Climate Action Progress and Plans
In 1993, Portland became the first local government in the U.S. to adopt a plan for reducing carbon emissions. The current Portland Climate Action Plan was adopted by Portland City Council in 2009. Portland's overarching climate objective is to reduce emissions to 80 percent below 1990 levels by 2050, with an interim goal of a 40 percent reduction by 2030. Portland has reduced emissions by 14 percent as of 2013, through a combination of improved efficiency in buildings, appliances, and vehicles; a shift to lower-carbon energy sources; a focus on a compact urban development pattern; and a rise in walking, biking and transit made possible by shifts in infrastructure investment.
Portland's 2015 Climate Action Plan update contains three novel elements: (1) an engagement of under-served and under-represented communities in the climate policy development process, (2) a consumption-based emissions inventory of local goods and services, and (3) a climate change preparation strategy to adapt to hotter, drier summers and warmer winters with more intense rain events. 
For more information, see the City of Portland website.