You are here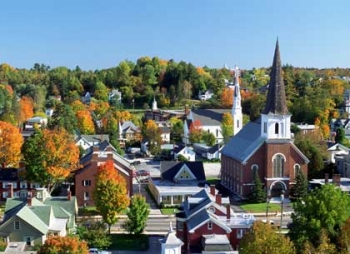 The City of Montpelier, Vermont, has the distinction of being the smallest state capital in the United States with a population of just over 8000 people. Sitting east of the Green Mountains, Montpelier serves as a cultural and economic hub and features a vibrant, close-knit community and a friendly, scenic atmosphere. │ Photo courtesy of Cogeneration & On-Site Power Production Magazine.
Climate Action Progress and Plans
The City of Montpelier launched Net Zero Montpelier, a major initiative focused on making Montpelier the first state capital in the country to get all of its energy from renewable sources – including electricity, heat and transportation – by the year 2030. The city has demonstrated its leadership and innovation in climate mitigation and resilience by creating a biomass-fueled district heating system which displaces approximately 300,000 gallons of fuel oil per year with sustainably harvested wood chips; reducing electric use by 20 percent since 2006; increasing building efficiency so that municipal buildings and schools use 19 percent less energy than in 2006; and many other initiatives. The Montpelier-based State Legislature also created the nation's first energy efficiency utility and standard-offer program. 
Montpelier has framed a dynamic 15-year strategic plan for its energy use across the electrical, thermal and transportation sectors so that all energy demand is served by renewable resources by 2030. As Montpelier is a city defined by four rivers, its climate resiliency efforts focus on reducing flooding and related damage to public and private infrastructure. In addition to strict zoning regulations that protect rivers and streams and permitting provisions that require new development in the floodplain to be built above the base flood elevation, Montpelier's climate resilience will stem from creating a distributed energy generation system maximizing use of locally available, renewable energy sources.
For more information, see the City of Montpelier website.