You are here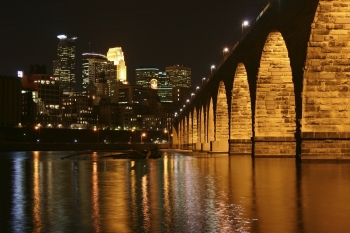 The City of Minneapolis, or the "City of Lakes", lies on both banks of the Mississippi River in Minnesota. Once the flour milling capital of the world, the larger of the Twin Cities is now a thriving Midwestern economic hub. │ Photo courtesy of Meet Minneapolis.
Climate Action Progress and Plans
The City of Minneapolis has a long history of leadership in actions and policies targeting reductions in greenhouse gas emissions. While an initial target was first set in 1993, the City's current goal of reducing emissions 15 percent by 2015, 30 percent by 2025, and 80 percent by 2050 were set by the City Council of 2010 to align with statewide goals. To achieve these goals, the City Council adopted the Minneapolis Climate Action Plan in 2013, which identifies a suite of potential strategies in the building, transportation, and waste sectors to reduce community-wide greenhouse gas emissions. Minneapolis has also partnered with two utilities, Xcel Energy and Center Point Energy to form the Clean Energy Partnership. Created in 2014, the purpose of the partnership is to jointly plan, market, implement, and track strategies to meet climate and energy goals. The City also works closely with the business community and passed a commercial building disclosure ordinance in 2013. As a result of these activities, Minneapolis is starting to see progress toward its emissions reductions goals. Greenhouse gas emissions from the community have declined over 9 percent between 2006 and 2013.
The city plans to continue its current efforts, including building regulations intended to target energy efficiency improvements and programs addressing climate adaptability and resilience.
For more information, see the City of Minneapolis website.