You are here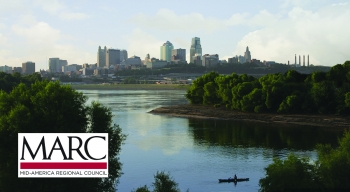 The Mid-America Regional Council (MARC) is a nonprofit association of city and county governments and the metropolitan planning organization for the bistate Kansas City region. They provide a forum for the region to work together to advance social, economic and environmental progress. MARC received the Climate Action Champion designation in consortium with the City of Kansas City, Missouri; Johnson County, Kansas; and the non-profit Bridging the Gap. │ Photo courtesy of the Mid-America Regional Council.
Climate Action Progress and Plans
In 2008, the MARC  Board of Directors adopted a vision of sustainability, helping to guide the agency's mission of fostering regional cooperation to solve problems that cannot be solved by a single agency or jurisdiction. MARC seeks to build from climate protection efforts of its consortium partners. The region's 30-year, $20-billion metropolitan transportation plan includes many resilience-related goals such as greenhouse gas emission reductions, air and water quality, natural resource protection, walkability and public transportation. The City of Kansas City, Missouri, has begun achieving major energy efficiency outcomes as one of 10 cities nationwide in the City Energy Project. And Johnson County, Kansas, has set policies to ensure green building standards in all future county facilities. As a Climate Action Champion, MARC aims to further such initiatives and develop an integrated, adaptive management approach to resiliency planning.
For more information, see MARC's website.