You are here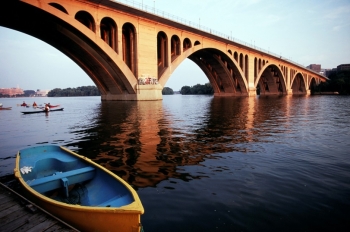 The Metropolitan Washington Council of Governments (COG) is an independent, nonprofit association that brings area leaders together to address major regional issues in the District of Columbia, suburban Maryland, and Northern Virginia. COG and its member governments seek to create a more accessible, sustainable, prosperous, and livable National Capital Region. │ Photo courtesy of the Metropolitan Washington Council of Governments.
Climate Action Progress and Plans
The Metropolitan Washington Council of Governments (COG) and its member governments are pioneering efforts to address and prepare for climate change and are recognized leaders in that regard. In 2008, the COG Board of Directors adopted the National Capital Region Climate Change Report as a regional policy. The report includes a baseline regional greenhouse gas inventory, examines potential climate change impacts, evaluates mitigation and adaptation strategies, and establishes greenhouse gas emission reduction goals of 20 percent by 2020, and 80 percent by 2050 as compared to a 2005 baseline.
The COG board's Climate, Energy and Environmental Policy Committee has developed a regional Climate and Energy Action Plan which contains goals and implementation actions addressing energy use and greenhouse gas inventories, buildings and infrastructure efficiency, renewable energy expansion, transportation and land use integration, sustainability and resiliency, and outreach and education.  The most recent yearly progress report found that more than 75 percent of COG members have greenhouse gas inventories, 80 percent have on-site renewable energy, and over 40 percent are developing vulnerability assessments. As a Climate Action Champion, the COG plans to establish an innovative Climate Champions Training Initiative to disseminate the Federal technical assistance and resources it receives to stakeholders across the region.
For more information about COG's efforts, see its website and page for its Climate, Energy and Environmental Policy Committee.