You are here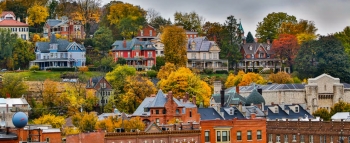 The City of Dubuque, Iowa, features a rich history, a diverse arts and cultural scene, and abundant natural beauty, including majestic limestone bluffs along the Mississippi riverfront. Sustainability is among the city's top priorities for the future. | Photo courtesy of the City of Dubuque.
Climate Action Progress and Plans
The City of Dubuque has adopted a 50 percent by 2030 Community Climate Action Plan, laying out a framework to reduce greenhouse gas emissions 50 percent below 2003 levels by 2030. The plan details the opportunities for reduction in waste, water, energy, transportation, and other categories, and two thirds of the reductions in the report are already active or planned.
Under the plan, Dubuque has begun capturing methane gas from the Dubuque Metropolitan Area Solid Waste Agency, replaced its public transit fleet with clean diesel vehicles, adopted a zoning code that prioritizes sustainability, and, through the Smarter Sustainable Dubuque project, provided residents access to smart meter technologies that allow them to reduce water usage, electricity usage, and garbage. As a presidentially declared disaster zone six times since 2000 due to Mississippi flooding, Dubuque is especially focused on risk reduction and resilience, and it has been restoring a major watershed that will reduce runoff and minimize flooding.
For more information about Dubuque's climate action plan, see the City of Dubuque's website and the Sustainable Dubuque initiative.