You are here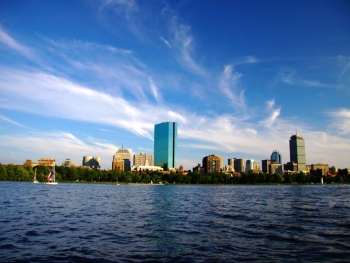 Boston is the largest city in New England and one of the oldest in the United States. Home to sixty colleges and universities, world-renowned medical facilities, nationally competitive professional sports teams, and thriving music and arts scene, Boston is a cultural hub and leader in innovation. | Photo courtesy of the City of Boston.
Climate Action Progress and Plans
The City of Boston is committed to reducing greenhouse gas emissions 25 percent by 2020 and 80 percent by 2050. The city was the first in the nation to adopt Green Building Zoning, has added climate preparedness to the review of large new development projects, and is working closely with local utilities on energy efficiency and the development of microgrids. In both 2013 and 2015, Boston was ranked by the American Council for an Energy Efficiency Economy (ACEEE) as the #1 energy efficient city in the nation.   The city government has many strong community partners, including the Green Ribbon Commission, an independent group of business, institutional, and civic leaders working to develop shared strategies for fighting climate change in coordination with the city's Climate Action Plan.
The 2014 Climate Action Plan Update (see below) includes a more detailed analysis across the commercial, transportation, and residential sectors of how Boston will meet its 2020 greenhouse gas reduction goal. To improve Boston's preparedness, the new plan includes a robust neighborhood engagement program, a new city-university partnership on climate preparedness, and a regional climate preparedness summit (held on May 13, 2015).
For more information about Boston's climate action plan, see Boston's climate action webpage and this Greenovate Boston Climate Action Plan Update.