You are here
On April 30, Energy Secretary Moniz and Deputy Secretary Elizabeth Sherwood-Randall welcomed senior executives from power companies that have joined the new Partnership for Energy Sector Climate Resilience at a roundtable discussion in Washington D.C.  The Partnership was announced by Vice President Biden and Secretary Moniz on April 21, 2015 as part of the release of the Quadrennial Energy Review Report (QER).  Under the Partnership, owners and operators of energy assets will develop and pursue strategies to reduce climate and weather related vulnerabilities.
The initial 17 Partners represent a broad array of investor-owned, federal, state, municipal and cooperative utilities, and include: Consolidated Edison of New York; Dominion Virginia Power; Entergy; Exelon Corporation; Energy; Great River Entergy; Hoosier Energy;  Iberdrola USA; National Grid; New York Power Authority; Pepco Holdings, Inc.; Pacific Gas and Electric; Sacramento Municipal Utility District; San Diego Gas and Electric; Seattle City Light; Public Service Electric and Gas; TVA; and Xcel Energy. Together, these companies represent approximately 20% of U.S. generating capacity and approximately 25% of U.S. customers. The Partnership is open to any utility that signs the Partnership Agreement expressing commitment to improving the company's resilience to climate change and to share best practices with other companies. 
Secretary Moniz opened the April 30 roundtable discussion by thanking the initial Partner companies for stepping forward and participating in this new public-private initiative.  He emphasized that the Partnership is an important mechanism to begin addressing some of the critical energy infrastructure challenges from extreme weather and climate change that were identified in the recently released QER. 
The discussion topics with the Partners included the goals and objectives of the partnership as well as gaps and opportunities for collaboration. Partners described how they are working to manage a number of weather and climate risks. Their efforts include improving and accelerating recovery responses; developing new planning processes that account for climate risks; deploying innovative smart grid and distributed generation technologies that minimize grid disruptions, and hardening, raising, undergrounding, or relocating assets. Partners expressed interest in sharing their experiences, learning from other Partners, and using data, information, models and tools developed by DOE.   
During the roundtable discussion power company representatives identified key areas where collaborative actions by DOE and the Partnership could be most helpful, including:
Informing the public, regulators and other decision makers about the efficacy of investments in climate resilience;
Evaluating the costs and benefits of climate resilience investments;
Updating equipment and facility design standards to better reflect climate change risks;
Developing planning and risk assessment scenarios for climate change impacts and the vulnerabilities of power systems, including low probability-high impact events; and
Assessing interdependencies that exist among the electricity system and other energy systems as well as other critical infrastructure. (e.g., communication networks, transportation systems, etc.).
Melanie Kenderdine, Director of the Energy Policy and Systems Analysis Office (EPSA), presented information on the recently released QER and on program activities related to electricity sector resilience. The QER contains significant information on the recent costs and disruptions associated with extreme weather and climate change, and proposes a number of initiatives aimed at addressing these risks.  Pat Hoffman, Assistant Secretary for Electricity Delivery and Energy Reliability highlighted efforts underway in DOE to develop tools useful in resilience planning: for better characterizing energy sector risks from climate change and extreme weather; for assessing the benefits and costs of investments in resilience;  and for developing metrics specific to climate resilience. 
In terms of next steps, as the DOE lead for the Partnership, EPSA will facilitate implementation of the Partnership and collaborate with Partners to develop vulnerability assessments; conduct outreach to other potential partners to expand the Partnership membership; and conduct a series of Partnership webinars, meetings, and workshops to discuss approaches for assessing climate change and energy system vulnerabilities; and developing and making the case for resilience strategies.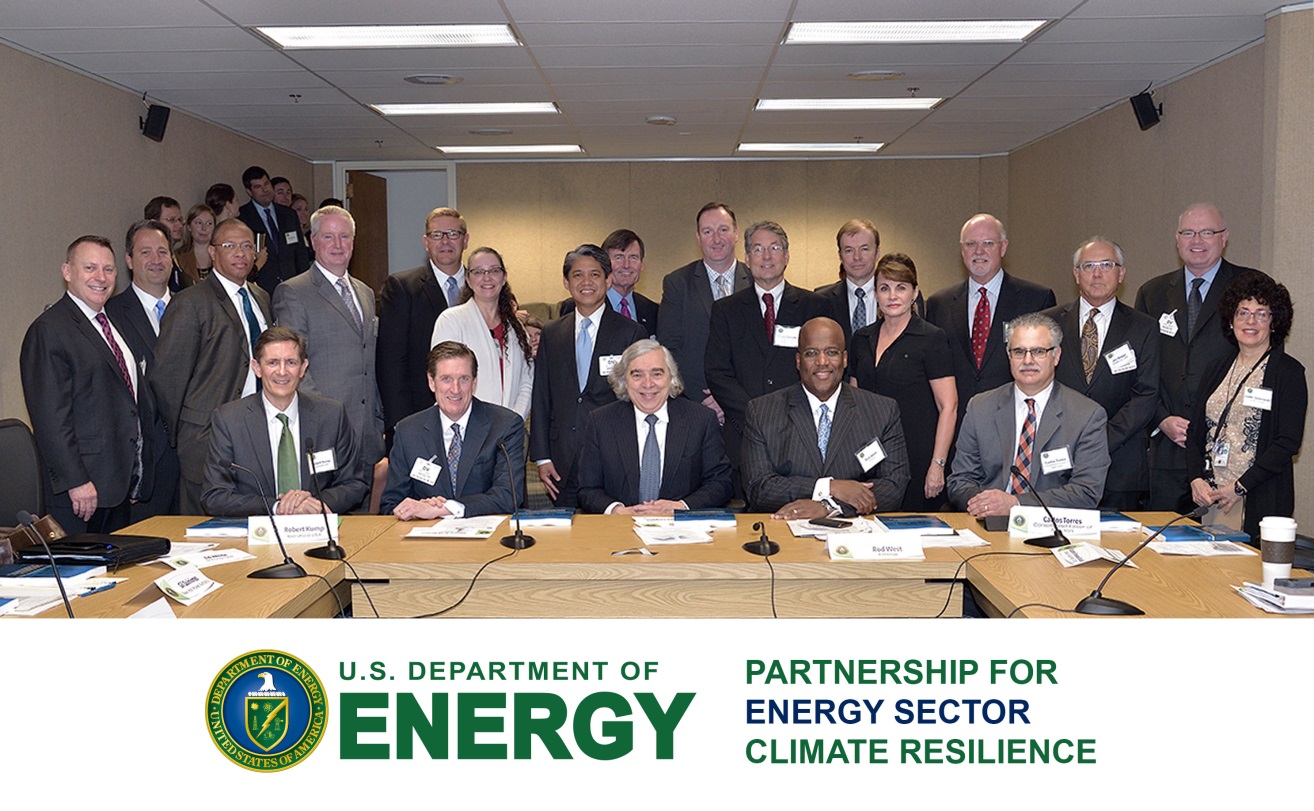 Image: Secretary Moniz (center) and representatives from companies that have joined the Partnership for Energy Sector Climate Resilience.