You are here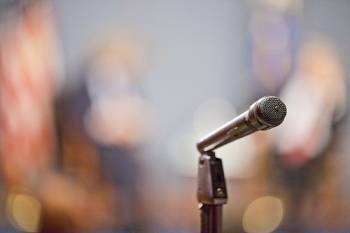 The Department of Energy is taking public comment on the first installment of the Quadrennial Energy Review until October 10. Photo by U.S. Department of Energy
The October 10 deadline for public comments for the first installment of the Quadrennial Energy Review (QER) is coming up soon. We want to hear from you, so please submit a comment. The Department of Energy has hosted eleven public stakeholder meetings around the country this year to receive public input for the first installment of the QER on infrastructure for energy transmission, storage, and distribution. We have one more QER meeting in New York City on October 6, about infrastructure finance issues.
The QER will provide a multiyear roadmap that outlines federal energy policy objectives, legislative proposals to Congress, executive actions, an agenda for RD&D programs and funding, and financing and incentive programs. The enormous investments in TS&D infrastructure influence supply and end use patterns, policies, investments and practices over the course of decades. Once built, the TS&D infrastructure is relatively inflexible and therefore becomes to some extent deterministic of supply and end uses.  For all energy infrastructure, the QER analyses will consider the impacts of transformations in energy supply, markets, and patterns of end use; issues of aging and capacity; impacts of climate change; cyber and physical threats; and vulnerabilities related to growing interdependencies of energy systems with water, telecommunications, transportation, and emergency response systems. For more information, download a copy of the slideshow Quadrennial Energy Review: Scope, Goals, Vision, Approach, Outreach
REGARDING PUBLIC COMMENTS
The entirety of all comments received in response to the Quadrennial Energy Review is publicly available. Any personally identifiable information, such as names, addresses, and email addresses that may be included in a comment will automatically be made available to the public. Individual commenters may request that the Department withhold their personally identifiable information from public disclosure, and such requests will be honored to the extent allowable by law. If you wish for the Department to withhold your name and/or other personally identifiable information, please state this prominently at the beginning of your comment. Additionally, the Department will accept comments submitted anonymously.
Click here to view the Federal Register Notice regarding the October 10, 2014 deadline to submit public comments on the first installment of the QER.
Click here to submit a public comment for the first installment of the Quadrennial Energy Review.