You are here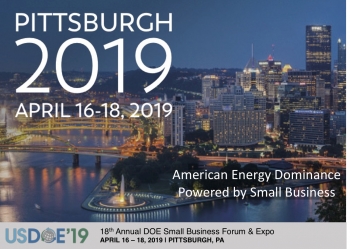 EXHIBIT PACKAGE (10' x10')
Government/Small Business - $1,400.00
Corporation/Large Business - $3,525.00
One (1) 10' x 10' Booth
Two (2) 3' high side rails
One (1) ID sign (7' x 4') - single line
Two (2) Contour chairs
One (1) 6' draped table (3 sides)
One (1) Wastebasket
One (1) 8' high back wall
One (1) Attendee Registration (Gov't/Small Business)
Two (2) Attendees Registration (Corp./Large Business; Facility Mgmt Contractor)
EXHIBIT PACKAGE (20' x 10')
Government/Small Business - $1,975.00
Corporation/Large Business - $6,525.00
One (1) 20' x 10'
Two (2) 3' side rails
One (1) ID sign (7' x 4") single line
Four (4) Contour chairs
Two (2) 6' draped table (3 sides)
One (1) Wastebasket
One (1) 8' high back wall
One (1) Attendee Registration (Gov't/Small Business)
Two (2) Attendees Registration (Corp./Large Business; Facility Mgmt Contractor)
Ciick here to register your exhibit space!
NOTE: Participation as an exhibitor at the 17th Annual DOE Small Business Forum & Expo does not imply any affiliation with or endorsement by the U.S. Department of Energy.
Early Teardown is not permitted without prior permission from show management, AetherQuest Solutions, Inc. Exhibitors who teardown early will be charge a $500.00 fine.