You are here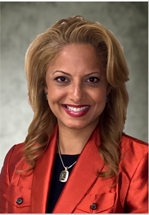 Camille George is the Chief Business Officer for the Office of Small and Disadvantaged Business Utilization at the U.S. Department of Energy and charged with ensuring the strategic goals, daily business objectives, and priorities of the OSDBU are achieved.
Camille has served at the Department, including the National Nuclear Security Administration, for a number of years and has held positions in various offices including the Office of the Under Secretary for Management and Performance as Chief Operating Officer and in the Office of Defense Nuclear Nonproliferation as Executive Officer.
Ms. George holds a B.S. in Accounting and Environmental Science from the University of Maryland, and is currently pursuing a Master of Science in Leadership from the Brookings Institution.