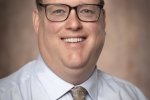 Gilbert Bindewald III
Gil Bindewald is the Principal Deputy Assistant Secretary for the Office of Electricity.
more by this author
Justice Week 2023 signifies a pivotal moment in our collective endeavor to provide reliable and resilient electricity to underserved and Indigenous communities throughout the United States. These communities, situated in remote, rural, and islanded areas, grapple with complex issues surrounding a clean energy transition, necessitating support to enhance their human and technical capacities for utilizing new energy systems. To address this, the U.S. Department of Energy's Office of Electricity (OE) announced a $14.7 million Funding Opportunity Announcement (FOA) this past summer, dedicated to multi-year research, development, and demonstration of microgrid-related technologies.
With a background in energy as well as economic development, a key focus area of mine is transitioning emerging energy technologies into practice, then turning that effort into transformative impact.  During the summer, our team visited Alaska to visit a microgrid design project in one of the state's remote communities and witnessed firsthand the pivotal role microgrids play in providing reliable and resilient electric power to residents and businesses. Yet, deploying microgrids at scale in underserved and Indigenous communities requires technological enhancement spanning all aspects of microgrid development, broader regional partnerships for sharing information and best practices, and access to external experts versed in microgrid energy systems.
Numerous projects have propelled the development of energy technology solutions, including microgrids, for remote and electrically isolated communities. However, these solutions have often been limited to single demonstration projects with minimal replicability.  We are looking to develop standardized microgrid building blocks to allow scalability and affordability, while allowing for unique configurability to adapt to specific local needs and preferences.
Microgrids represent a beacon of hope for communities long plagued by grid vulnerabilities and unreliable energy access, which can stifle economic opportunities in these populations. Microgrids provide decision options for these communities, empowering them with the necessary tools and functionality required to mitigate and future-proof emerging risks, whether climate or manmade, and thus, positioning future generations with a more secure and stable platform to grow and transform their communities.
By prioritizing the unique needs of underserved and Indigenous communities, we pave the way for a more inclusive energy future. As microgrids become building blocks of our electricity delivery system, we move closer to a nation where reliable, clean energy is accessible to all. Together, we are shaping a brighter tomorrow.