You are here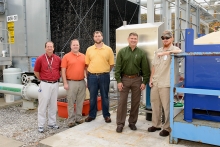 From left: Brad Mattie, Bill Collins, Chris Byrd, Gary Guge and Jake Thompson were instrumental in protecting Y‑12 water quality.
Y‑12 recently received two awards at the 33rd Annual Tennessee Chamber of Commerce and Industry Environment and Energy Conference. Representatives from Y‑12's Infrastructure and Environmental Compliance groups accepted the awards at the ceremony held at Montgomery Bell State Park.
Y‑12 received the following awards for businesses with more than 250 employees: Water Quality Award and Solid and Hazardous Waste Management Award.
The Water Quality Award recognized Y‑12's reduced water usage and improved water quality. The Solid and Hazardous Waste Management Award, recognized the Uranium Processing Facility for its sustainable practices. UPF has diverted more than 74 million pounds of material from landfill disposal in FY 2015 and more than 89 million pounds since FY 2013.
Read more about these awards on the Y-12 website.