You are here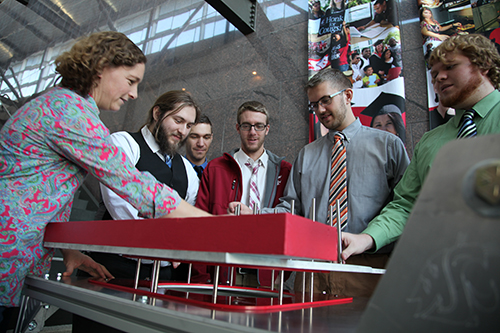 Earlier this month, Washington State University mechanical engineering students delivered two prototypes developed as part of their senior design projects to their Pacific Northwest National Laboratory mentors. The design projects were supported by the Next Generation Safeguards Initiative Human Capital Development (NGSI HCD) program, which works to recruit, train and retain qualified personnel to meet future international safeguards challenges. To advance the NGSI HCD mission, PNNL identified highly qualified WSU engineering students to work with PNNL experts on projects that support nonproliferation and nuclear safeguards. These student teams worked with PNNL mentors to create two prototypes:
A large doughnut-shaped fixture designed to hold gamma ray detectors and surround a 12-foot-long nuclear fuel assembly. In a working model, gamma ray measurements would detect whether any spent fuel is missing.
An alignment and orientation fixture and target turntable to hold a system that creates and compares 3D images of a nuclear material container to detect tampering.
The devices will be used in training, workshops and exercises to support nuclear safeguards, security and nonproliferation training in various domestic settings.
PNNL develops innovative technologies and conducts system studies to maintain and enhance international safeguards and the nonproliferation regime. Working with regional universities, such as WSU, PNNL creates opportunities for university students in appropriate program areas to apply their education to real projects that are addressing national security challenges.
WSU conducts an Accreditation Board for Engineering and Technology, Inc.-approved industrial design clinic in which industry partners sponsor students and faculty to design and develop prototypes that meet specific industry needs. The industrial design clinic provides excellent learning opportunities for the engineering students while delivering a high-value product to industry at minimal cost to the industry partner.
PNNL's NGSI/HCD execution program has worked with the WSU Mechanical Design Program (Industrial Design Clinic) since 2009, with each semester resulting in the design, fabrication and delivery of one or more pieces of national security-applicable equipment that can be used in training, research and other applications.