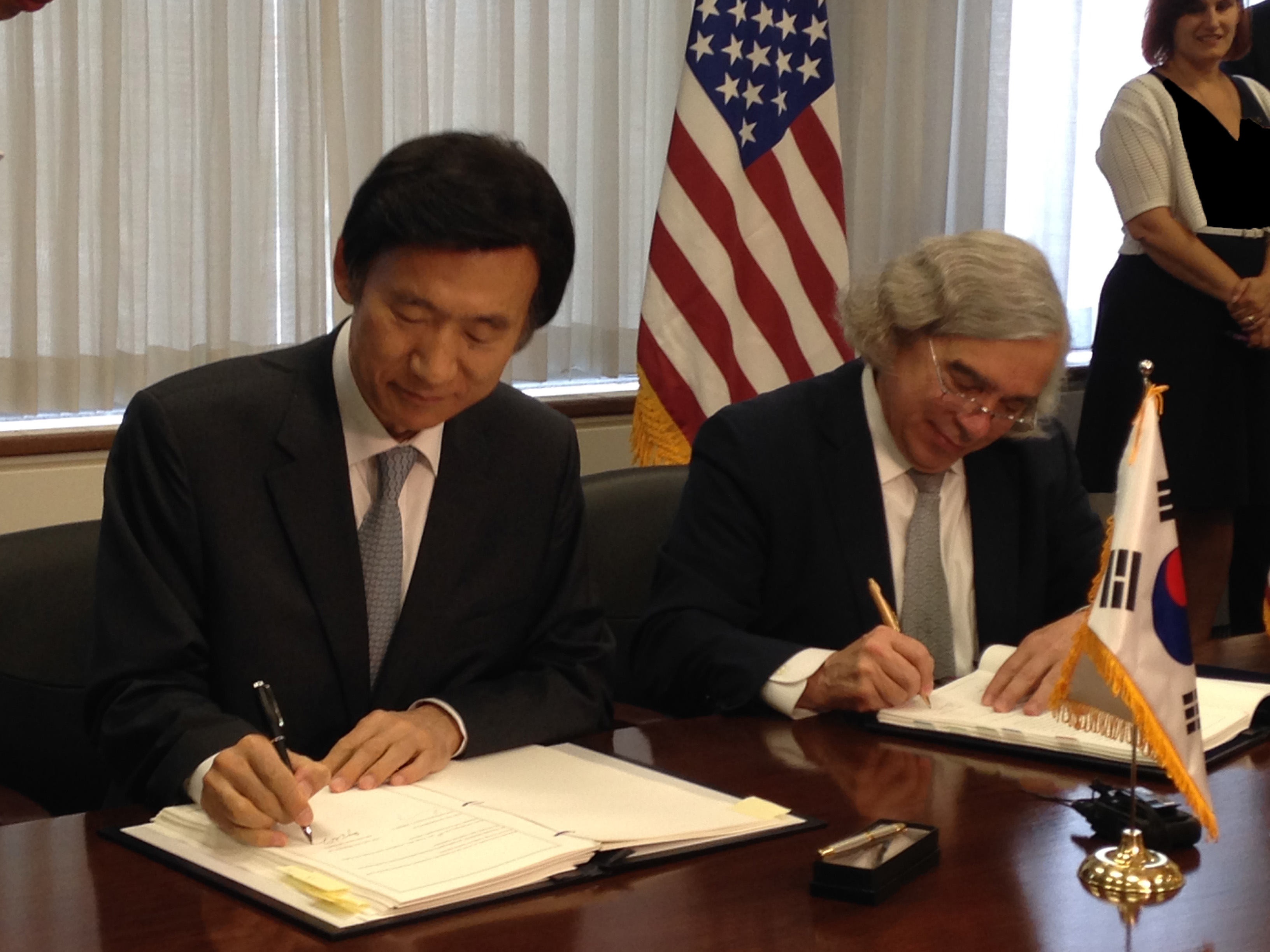 Washington, DC – Today Secretary of Energy Ernest J. Moniz and Korean Foreign Minister Yun signed the successor United States - Republic of Korea Agreement for Civil Nuclear Cooperation, or 123 Agreement, as they are referred to in the United States.

The United States and the Republic of Korea (ROK) are world leaders in civil nuclear energy and have a long and productive history of nuclear cooperation, and this relationship will continue to strengthen and grow as a result of this Agreement.

This Agreement charts a joint path forward to address critical issues facing both civil nuclear programs, such as spent fuel management and assured fuel supply. Like all 123 agreements, it contains essential provisions to ensure nonproliferation and nuclear security, and thereby enhances the global nuclear nonproliferation regime. 

"The Agreement would allow the United States and the Republic of Korea to continue peaceful nuclear cooperation, enable expanded cooperation between our respective nuclear industries, and reaffirm our two governments' shared commitment to nonproliferation" said Secretary of Energy Ernest Moniz.

Additionally, the Agreement would establish a new High-Level Bilateral Commission for the United States and ROK to work together to advance mutual objectives such as addressing spent fuel management, an assured stable fuel supply, nuclear security, and enhancing cooperation between the U.S. and ROK nuclear industries. 

Follow NNSA News on our Blog and on Facebook, Twitter, YouTube and Flickr.

Established by Congress in 2000, NNSA is a semi-autonomous agency within the U.S. Department of Energy responsible for enhancing national security through the military application of nuclear science. NNSA maintains and enhances the safety, security, reliability and performance of the U.S. nuclear weapons stockpile without nuclear testing; works to reduce global danger from weapons of mass destruction; provides the U.S. Navy with safe and effective nuclear propulsion; and responds to nuclear and radiological emergencies in the U.S. and abroad. Visit www.nnsa.energy.gov for more information.