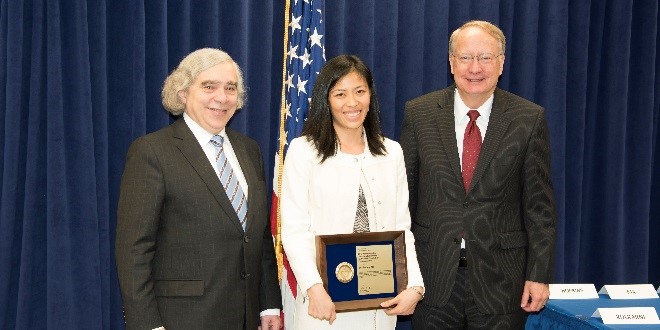 Yesterday Secretary of Energy Ernest Moniz hosted a special ceremony honoring DOE's 13 recipients of the 2016 Presidential Early Career Award for Scientists and Engineers (PECASE), among which were three researchers nominated by NNSA. PECASE recipients are selected for the award by the White House for showing exceptional potential for leadership early in their research careers at the frontiers of scientific knowledge.
"These early-career scientists are leading the way in our efforts to confront and understand challenges from climate change to our health and wellness," President Obama said in announcing the awards. "We congratulate these accomplished individuals and encourage them to continue to serve as an example of the incredible promise and ingenuity of the American people."
Three of the PECASE researchers were nominated for the award by NNSA:
Jonathan Hopkins of the University of California, Los Angeles (UCLA), a former post-doctoral researcher at Lawrence Livermore National Laboratory, worked to design and fabricate a new class of micro-engineered materials that achieved targeted thermos-mechanical properties.
Tammy Ma, a physicist at Lawrence Livermore National Laboratory, was recognized for her innovation and leadership in work with the National Ignition Facility as well as her broad educational outreach and service to the scientific community.
David Mascareñas is a structural engineer at Los Alamos National Laboratory, working to improve the safety and reliability of infrastructure, innovate human-computer interfaces, develop robotic sensing systems, and help detect nuclear materials.
The researchers selected for PECASE are recognized not only for their pursuit of innovative research at the frontiers of science and technology but for their commitment to community service as demonstrated through scientific leadership, public education, or community outreach.
Learn more about NNSA's sites and laboratories and opportunities for researchers.