You are here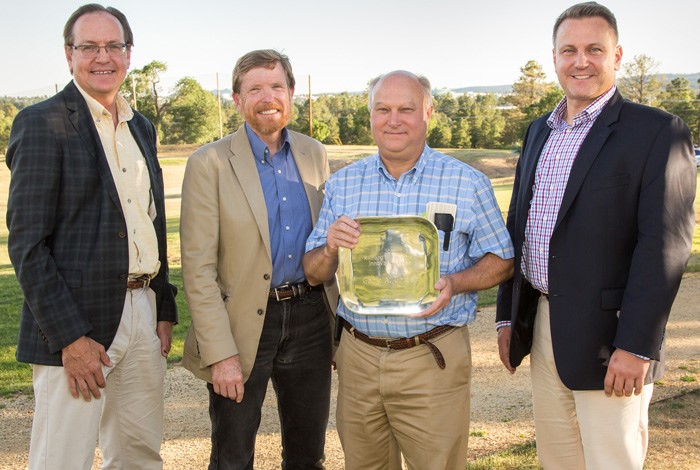 Last month, NNSA's Technology Transfer Program Manager for the Office of Strategic Partnerships Programs Lee Finewood traveled to Los Alamos National Laboratory to help honor a tech transfer hero of the nuclear security enterprise. High-performance computing (HPC) expert Gary Grider received the 2015 Richard P. Feynman Innovation Prize for his exceptional work developing cutting-edge solutions while forging productive business partnerships.
Every year, the Feynman Innovation Prize recognizes a Los Alamos team member with a distinguished record for putting innovation to work to benefit both the lab's mission and U.S. industry. Grider's technology innovations will eliminate barriers to exascale class computing on both fronts.
On the mission side, his developments help support the Trinity machine, the lab's premier supercomputer for modeling and simulation, which contributes to NNSA's stockpile stewardship mission. Grider's concepts are also being deployed at many other DOE extreme-scale computing sites, and at large commercial sites through products produced by Intel, Data Direct Networks, IBM, and Cray.
"Every year the NNSA labs, plants and sites continue to reset the bar for groundbreaking science and technology – and through partnering with industry, academia and others we're able to make those technologies available to a wider audience or be brought to bear on very different problems," Finewood said. "Gary and his impact on HPC are a perfect example of doing just that and I look forward to more exciting developments in this area."
Grider is the HPC Division leader at Los Alamos and a thought leader in the HPC storage community. He holds 12 patents and over 30 active patent applications related to HPC. But Grider isn't resting on his laurels as an anointed innovator; he's currently designing an open-source storage system. The first of its kind, it will be able to handle tens of trillions of files and represents an important advance in cloud-based HPC storage.
Learn more about this year's innovation prize winner, and read about tech transfer at NNSA.