You are here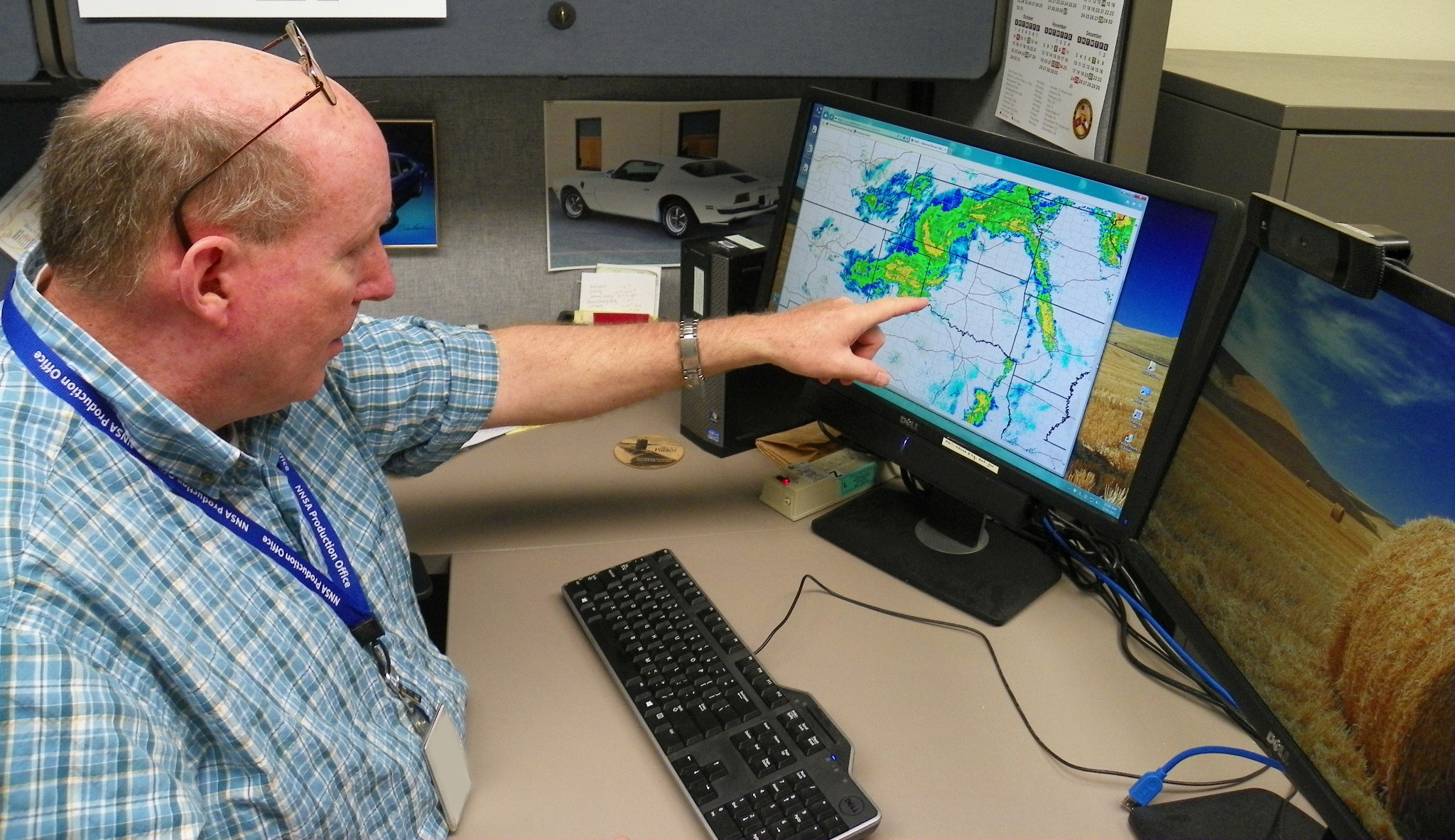 Today's weather forecasters have a host of advanced technologies, ranging from Doppler radar to improved satellite imagery, to issue timely and accurate warnings for tornadoes, severe thunderstorms or flash floods. Technology, however, has its limits. To help fill the need for critical and timely information during severe weather, the National Weather Service (NWS) has over 290,000 trained weather spotters across the nation who help keep communities safe by providing on the ground weather information during storms.
Allan Scruggs, who serves as a nuclear safety specialist for NNSA's Production Office at the Pantex Plant, has served as a volunteer weather spotter since 1993 as part of weather service's SKYWARN program. "I have always had an interest in thermodynamics and its role in the thunderstorm life cycle. I consider myself to be a weather geek, and have learned a great deal from our local NWS forecasters. My training is in mechanical engineering, and I am fascinated by tornadoes as they are one of the most powerful natural phenomena on earth," Scruggs said.
Scruggs is activated 10 to 12 times during the severe weather season in the Texas Panhandle, which runs from March through October.
"Severe storms are common during this time and tornadoes are always a possibility," he said.
The Texas Panhandle area is on the western edge of "Tornado Alley," with Oklahoma at its center. When the conditions exist for a severe storm, a National Weather Service official in Amarillo will issue a call for weather spotters to respond. Depending on the number of storms developing or expected that day, the NWS may need a dozen or more spotters to cover the area and provide the NWS with "ground truth feedback."
When Scruggs is available and activated, he deploys to a specific spot.
"Once in place, I provide reports to the (NWS) on wind gusts, hail size, rainfall accumulation, and cloud formations, all of which could signal a developing tornado or pose a hazard to the public. As the storms move, we try to stay up with them and maintain visual contact," he said.
During a tornado, Scruggs and his fellow spotters may get as close as a quarter-mile away, depending on the road, but usually try to stay farther out, perhaps as far as 10 miles.
"Obviously, there are dangers involved with severe weather spotting, but we are in constant contact with the (NWS) and we try to stay on paved roads. When tornadoes occur in the Panhandle, they are typically small and short-lived and on the ground for about five minutes," he said.
Weather spotters are different from storm chasers. "Storm chasers" could include meteorologists doing specific research and others who provide live information on a tornado to the news media. But Scruggs was clear about one thing: "They do not take guidance or direction from the NWS and can travel hundreds of miles during a severe weather event to track tornadoes. This can be very dangerous and has led to fatalities in recent years."
Weather spotters are volunteers who work to gather and relay information close to a storm cell that helps the NWS better forecast warnings to citizens. Sometimes they suffer vehicle damage from hail. There is risk, particularly at night and in situations when visibility is not good or in radio dead zones.
"My wife remains what I would call cautiously nervous about this volunteer activity, but I have a strong desire to serve others and to help," Scruggs said.
Last year, Scruggs began training two other Pantex employees to become weather spotters. He also maintains an extensive database of area tornadoes for the Amarillo National Weather Service office.
Scruggs joined the NPO staff in 2016 as a general engineer following a 31-year engineering career as a contractor employee at the Pantex Plant working in the areas of quality engineering, plant design engineering, technical business operations, system engineering, design engineering, and safety analysis engineering. As a nuclear safety specialist, Scruggs' responsibilities include day-to-day oversight of safety basis issues at Pantex.