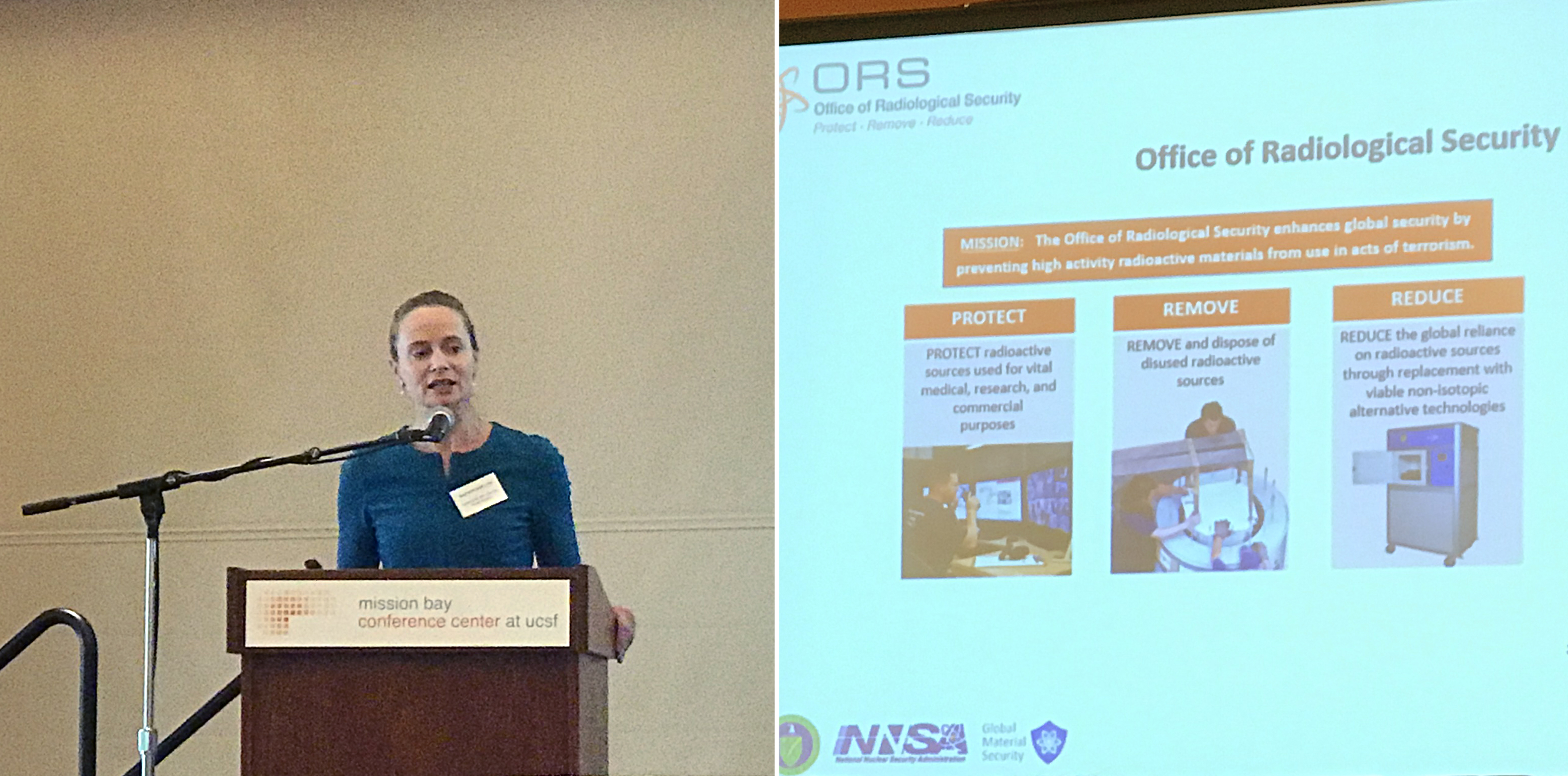 Radiological sources are used in our everyday lives to treat cancer, sterilize medical equipment, prepare blood donations, and test pipelines and industrial welds. At the same time, the potential exists for terrorists to obtain these materials and use them in a radiological dispersion device ("dirty bomb") that threatens national security.
How can we adequately protect ourselves from harm while still preserving the benefit these radiological devices provide?
NNSA's Office of Radiological Security tackles this issue head-on by working with local government and industry partners to develop creative and proactive approaches that go above and beyond regulatory requirements to secure these materials without impeding medical treatment and research. NNSA provides information on alternative technologies and promotes their adoption as viable replacement options for radioactive source-based devices.
NNSA collaborates with partners that rely on high-activity radiological sources to promote alternatives for certain applications. This allows them to accomplish their goals without radioactive material and thereby eliminate any security requirements.  New York was the first city partner to announce its intention to rid the city of this "dirty bomb" material. Now California is looking to support a transition away from this material as well.
The effort to replace radioactive source-based blood irradiators with alternative technologies provides one example of such a transition. Hospitals, blood banks, and research institutions use cesium-137-based irradiators to treat blood products prior to transfusions and to perform research. These same tasks can also be accomplished with X-ray technology, which works without a radioactive source.
Specifically, the Cesium Irradiator Replacement Program offers financial incentives to help industry volunteers cover the cost of replacing the radiological source-based technology with the alternate technology. Additionally, this option eliminates the financial burden of disposing of the radioactive source at the end of its life. NNSA works closely with researchers and site managers to ensure the replacement technology will meet their performance standards without affecting patient care.
California is a leading partner in this effort. There are frequent radiological security workshops convened there, bringing government, academic, and hospital professionals together to discuss the adoption of alternate technologies. These forums help participants share their insights on how to secure these sources and transition to non-radioisotopic technologies.