You are here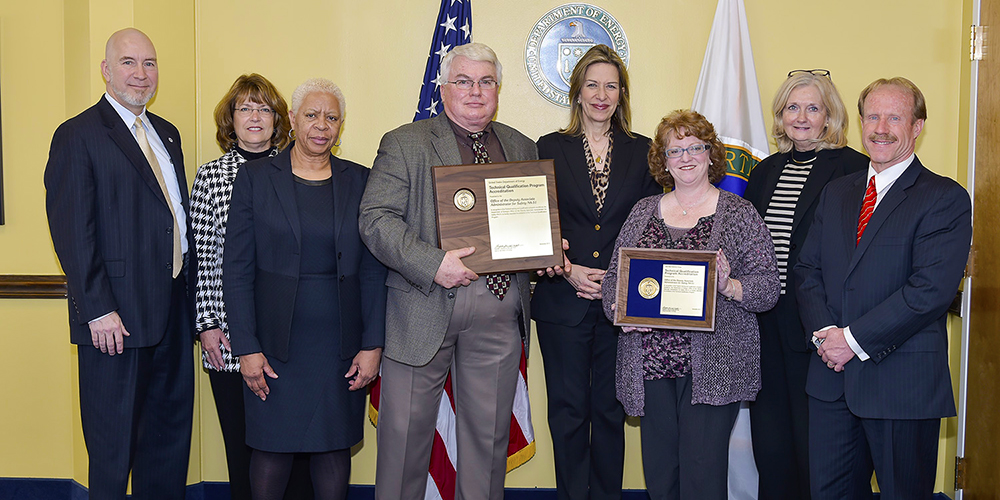 Part of NNSA's commitment to maintaining the nation's safe, secure, and effective nuclear deterrent are relentlessly high standards for technically capable nuclear enterprise personnel qualifications for all aspects of Defense Nuclear Facility operations. In December 2015, the Department of Energy (DOE) granted Technical Qualification Program (TQP) Accreditation to NNSA's Office of Safety (NA-51) for superior knowledge, skills, and abilities in technical personnel support, management, oversight, and operation of defense nuclear facilities.
Deputy Secretary Liz Sherwood-Randall presented NNSA's Office of the Deputy Associate Administrator for Safety with the TQP accreditation plaques in a ceremony at DOE/NNSA headquarters in Washington, D.C.
Sherwood-Randall recognized NNSA's Office of Safety as the first TQP-accredited DOE headquarters organization since the program's inception in the early 1990s. TQP accreditation signifies an organization's desire to further enhance technical capabilities and continuously improve performance in defense nuclear facility technical personnel qualification activities. The NNSA Office of Safety joins four other previous TQP-accredited NNSA organizations: the former Y-12 Site Office, Sandia Field Office, the former NNSA Service Center, and the Nevada Field Office.
It was NA-51's rigorous commitment and pursuit of headquarters leadership in nuclear security enterprise technical personnel defense nuclear facility safety qualifications that pushed DOE's unanimous TQP Accreditation Board approval of the TQP accreditation, according to the Deputy Secretary.
Sherwood-Randall commended two NNSA employees who were responsible for aggressively pursuing the accreditation. Deputy Chair, DOE Federal Technical Capability Panel and senior advisor to the NNSA Office of Safety Capt. Dave Chaney, USN (Ret.)/Esq., and TQP Coordinator for the NNSA Office of Safety, Infrastructure, and Operations Shari Crandell received the plaques on behalf of NNSA commemorating the accreditation.
Learn more about DOE nuclear and facility safety directives here.