You are here
The 2016 class of NNSA Graduate Fellowship Program (NGFP) fellows culminated their year of service May 24 with the fourth annual NGFP Closing Ceremony and Alumni Reception at NNSA's headquarters in Washington, D.C.
The event brought the current class of fellows together with leaders and program alumni from across the Nuclear Security Enterprise, including NNSA, U.S. Department of Energy (DOE) national laboratories, U.S. Department of State, and the nuclear security community.
This year's event began with recognition of the fellows for their service. NNSA Chief of Staff and Associate Principal Deputy Administrator Ike White provided opening remarks and awarded the fellows with certificates of completion.
A poster session showcased fellows' accomplishments and highlighted their support for NNSA programs and missions over the past year.
"In sharing their experiences, program participants demonstrate how NGFP is continually evolving its outreach and capabilities to better serve the NNSA mission and nuclear security enterprise," said Dr. Dave Rude, NNSA's chief learning officer and director of learning and career management.
"I congratulate you all and share my appreciation for your dedication to the future of this nation's nuclear security technology and policy," White said to the class and attendees at the event.
This year's NGFP class was the largest to date, with 49 fellows spanning the NNSA enterprise. NGFP is a premier program for attracting and maintaining high-caliber candidates for the NNSA mission. Every year the program receives more than 200 applications and conducts more than 330 interviews in two weeks to select fellows.
"NNSA's leaders look to our academic programs, including NGFP, to recruit people proficient in the studies essential for accomplishing our missions," Rude said. "We are attracting the best and brightest with the hope that they'll catch the fever for nuclear security and stay on as part of our cadre of highly trained team members."
NGFP's success at its objective is evident: last year, 80 percent of fellows secured employment at NNSA, DOE, national laboratories, or other Federal agencies. More than 400 fellows have graduated from the program and are serving as foreign affairs specialists, program managers, office directors, DOE attachés, and senior leadership. Five alumni have received the Linton Brooks Medal for Dedication to Public Service.
This year, a number of the graduating fellows will remain at NNSA Headquarters in Washington, D.C., as federal employees, some will work as federal employees or contractors at DOE/NNSA's labs or sites, a few have left for work with the International Atomic Energy Agency in Vienna, and some plan to work on completing their graduate degrees.
"The government in many places needs bright, young and committed people to fulfill its missions," NGFP fellow Christopher Golden said. "Being a part of something greater is important to me. On that merit alone, I would recommend the fellowship. NNSA has a very important mission."
Golden is graduating with a master's degree in international security and worked within NNSA's defense programs. He lauds the NGFP for integrating graduate students into mission work while at the same time giving them exclusive opportunities for specialized training.
"The courses available to fellows are fascinating in demonstrating how everything that we do fits together in the end product—beyond what you can learn about NNSA's in public documents, like the Stockpile Stewardship and Management Plan," Golden said. "Those opportunities tie everything up nicely and give a greater understanding."
Golden was offered and accepted a Federal position in the same office in which he worked as a fellow.
NGFP fellow Samuel Trippe served in NNSA's international operations office and will receive a master's in international political economy of resources.
"The most challenging aspect was learning how to present complex and detailed information to senior leaders, who have limited time, in a concise manner," Trippe said. "NGFP provides an excellent experience into the Federal government, DOE, and the U.S Nuclear Security Enterprise."
With the expertise and experience afforded to him by his time as a fellow, Trippe was offered and accepted a position at Lawrence Livermore National Laboratory.
Brittany Morgan worked as a fellow purchasing equipment across the enterprise in support of NNSA's Life Extension Programs.
"Participating in site visits and program reviews helped me gain a greater understanding of the nuclear enterprise," she said.
With her newly earned master's degree in materials and nuclear engineering, Morgan plans to work at the Defense Threat Reduction Agency.
While studying chemical engineering, NGFP fellow Maribel Dominguez worked at the Los Alamos Field Office, where she helped oversee quality assurance of operations at Los Alamos National Laboratory. The position allowed her to practice her trade on some of the most pressing engineering problems, while also meeting national security policy requirements.
"I applied engineering skills – reviewing drawings, specifications, certificates – to assure final product quality," Dominquez said. "As an engineer, policy is not my forte. Quality assurance means knowing many the different aspects of a final product, and how it must be reviewed for compliance with design and quality requirements."
Dominquez will continue to work full time in her office now that the fellowship has concluded.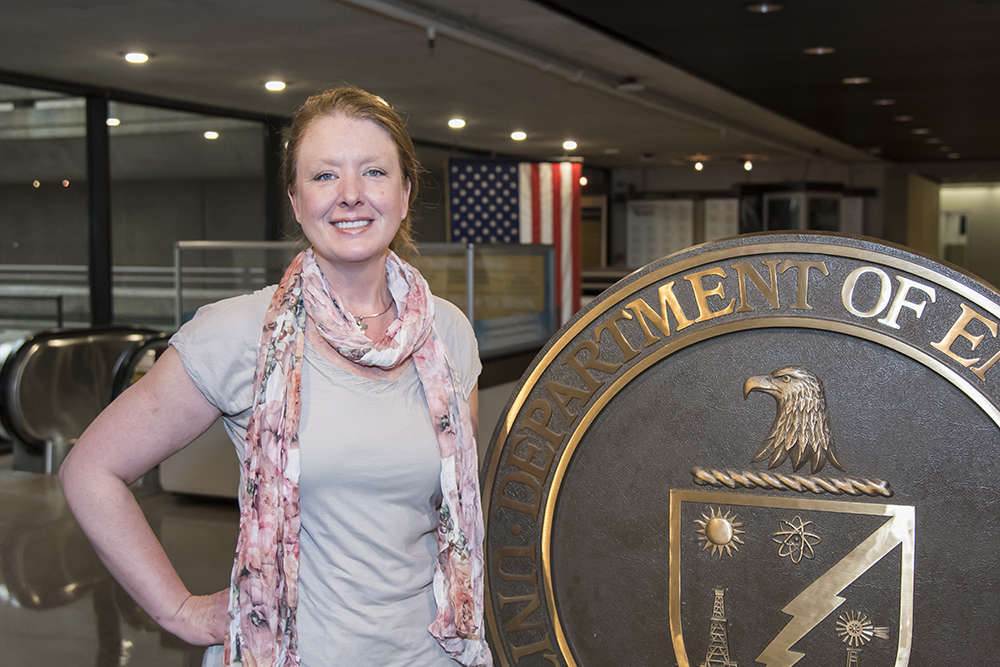 While earning a doctorate in international relations, NGFP fellow Liz Dallas worked for NNSA in nuclear smuggling detection and deterrence (NSDD).
In her role, Dallas worked with partner countries to strengthen communication and effective action for nuclear forensics investigations.
"I led a very successful recent project, a table top exercise hosted in Germany, that included participants from Georgia, Ukraine, Azerbaijan, and Moldova," Dallas said. "I learned a great deal about project management, culture, and communication through carrying out this important work."
Now that the fellowship is over: "I plan to continue to support NSDD in my current role," Dallas said. She is also using her expertise to work on a textbook for the Nuclear Regulatory Commission on advanced radiation protection.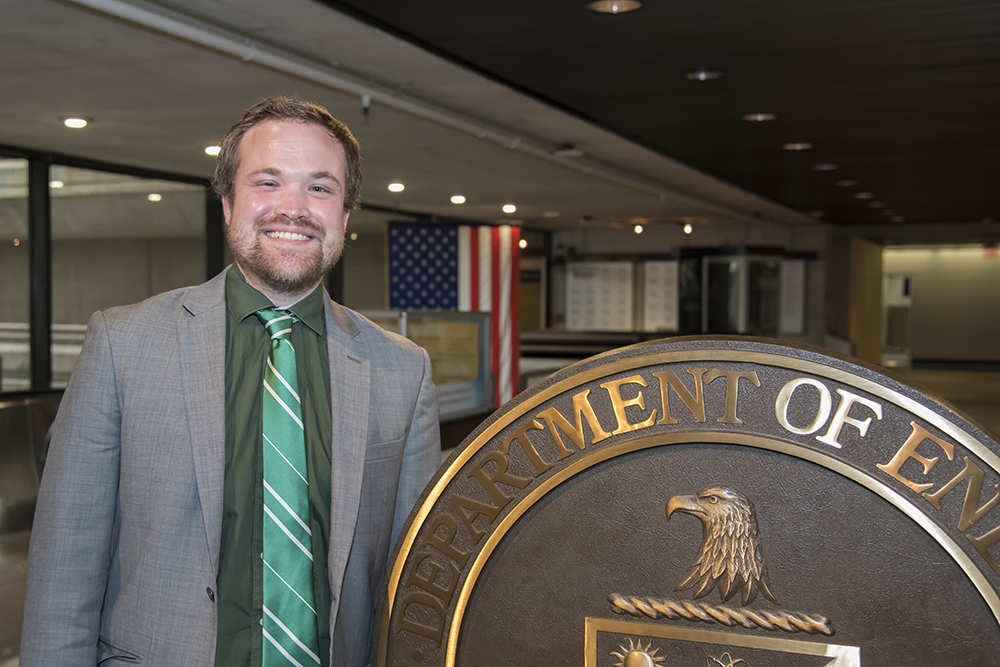 Fellow Evan Thompson supported NNSA's office of global material security while earning a master's in security studies.
"Learning how NNSA works as an organization was extremely valuable to me. I've learned so much about not just my office's mission area, but all of the varied offices and programs within NNSA," Thompson said. "I travelled all over the world learning how NNSA works with other countries and organizations to improve nuclear security all over the globe."
"You would be hard-pressed to find a better entrée into nuclear security work anywhere else in government," Thompson said. "As a fellow, you're not just an intern or a short-term hire. You are brought on as a real part of the team, with real responsibilities and a real stake in the work."