You are here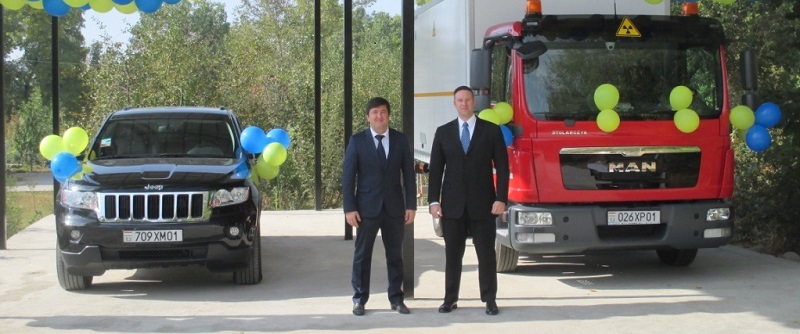 NNSA Program Manager Nick Cavellero, right, and NRSA Director of the Department of Information and International Relations Ilkhom Mirsaidov, left, with two specialized vehicles purchased by NNSA for Tajikistan.
WASHINGTON – The Department of Energy's National Nuclear Security Administration (DOE/NNSA), the United States Embassy of Tajikistan, and the Government of the Tajikistan today announced the commissioning of two secure vehicles that will be used to transport radiological materials as part of a broader cooperative effort to help combat nuclear and radiological terrorism in Tajikistan and around the world.
"Radiological materials are most vulnerable when in transit. These new security transport vehicles will help strengthen radiological security in Tajikistan. This is an important milestone in the cooperation between our two countries to mitigate the threat of radiological terrorism," said NNSA Deputy Administrator for Defense Nuclear Nonproliferation Anne Harrington.
A ceremony was held on October 2, 2015 at the Weapons of Mass Destruction (WMD) Non-proliferation Training Center, part of Tajikistan's Nuclear and Radiation Safety Agency (NRSA) in Dushanbe. NRSA director Dr. Ulmas Mirsaidov and State Institution Radioactive Waste Disposal Site (SI-RWDS) director Dr. Asliddin Shonazarov highlighted the deployment of these new vehicles as an example of the continued cooperation between the United States and the Tajikistan to prevent nuclear and radiological terrorism.
NNSA is also providing transport security training to support sustainability of the vehicles. Other examples of the productive partnership between the United States and Tajikistan, who share a long history of cooperation on nuclear nonproliferation issues, include:
Improvement of physical security of radiological materials;
Provision of mobile and man-portable radiation detection equipment;
Regional cooperation on safeguards implementation; and
Provision of training for Tajikistani officials on export controls.
For a fact sheet on NNSA's Global Material Security/Office of Radiological Security program, click here.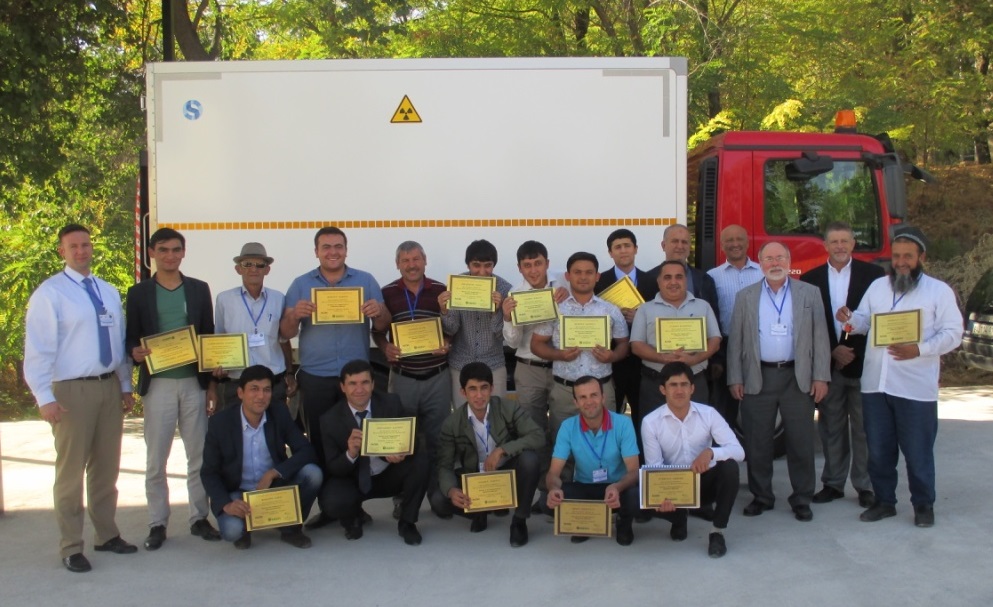 NNSA Program Manager Nick Cavellero and Oak Ridge National Laboratory trainers with graduates, holding their certificates of completion, from the first-ever NNSA sponsored Radiological Transportation Security training course in Tajikistan.