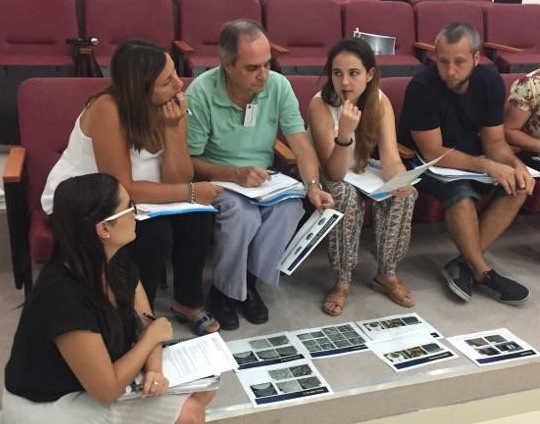 Buenos Aires, Argentina - The Department of Energy's National Nuclear Security Administration (DOE/NNSA) partnered with Argentina's Ministry of Energy and Mining to conduct a nuclear forensics workshop from February 20 to 24 at the Ezeiza Atomic Center. This was the first formal collaboration between the United States and Argentina on nuclear forensics.
The workshop is part of an ongoing effort with Argentina initiated in 2016 to create a national-level nuclear forensics network of scientists, law enforcement officials, national security experts, and emergency planners that will strengthen global nuclear security.
"We commend the government of Argentina for their commitment to nuclear security, and look forward to further collaboration on nuclear forensics and other related initiatives" said Dave Huizenga acting deputy administrator for defense nuclear nonproliferation.
At the workshop, 20 Argentinian scientists and national security professionals focused on developing analytical plans for laboratories that conduct nuclear forensics investigations.
Participants learned best practices for receiving materials in a laboratory setting, communicating scientific data to law enforcement, and applying various analytical techniques to nuclear forensics investigations. Additionally, the group reviewed nuclear forensics case studies.
"The workshop helped us to understand where our capabilities in nuclear forensics are and how far we can go" said Tomás Bieda, director of nuclear security policies and non-proliferation in the Ministry of Energy and Mining.
By analyzing data of a simulated nuclear trafficking incident, participants also practiced the steps required to determine where test material originated.
The training will improve Argentina's ability to collect, analyze, and evaluate radiological or nuclear material in a law enforcement investigation and may provide vital information to help authorities prevent and respond to criminal or terrorist incidents.
The NNSA's Office of Nuclear Smuggling Detection and Deterrence (NSDD) sponsored the workshop and experts from Lawrence Livermore National Laboratory and Los Alamos National Laboratory delivered the workshop.
This formal collaboration on nuclear forensics supplements NNSA's partnership with Argentina to counter the risks of nuclear and radiological smuggling established in 2010. By building a community of states that possess an indigenous capacity to deter, detect, and interdict nuclear and radioactive materials, NNSA is making an essential contribution to the global nuclear detection architecture.
Learn more about NNSA's Nuclear Smuggling Detection and Deterrence Program.
Follow NNSA News on Facebook, Twitter, YouTube, and Flickr.
Established by Congress in 2000, NNSA is a semi-autonomous agency within the U.S. Department of Energy responsible for enhancing national security through the military application of nuclear science. NNSA maintains and enhances the safety, security, and effectiveness of the U.S. nuclear weapons stockpile without nuclear explosive testing; works to reduce the global danger from weapons of mass destruction; provides the U.S. Navy with safe and effective nuclear propulsion; and responds to nuclear and radiological emergencies in the U.S. and abroad. Visit nnsa.energy.gov for more information.