You are here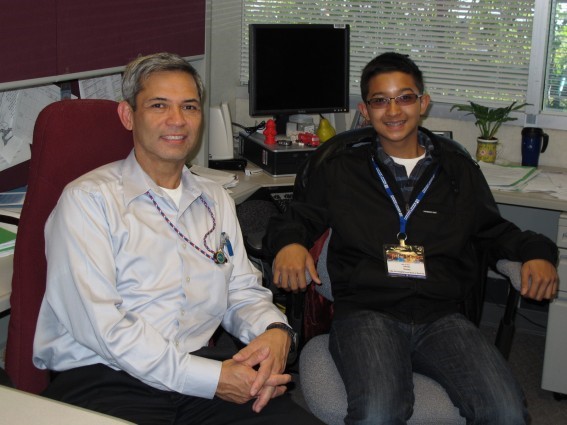 Rick Roses
Job: Federal fire protection engineer and explosives safety engineer
Educational background: Bachelor's degree in mechanical engineering, University of California, Berkeley (1984) and a master's in national resource strategy, National Defense University (2010).
Rick Roses, fire protection and explosives safety engineer at Lawrence Livermore, mentors and tutors students in underserved communities in STEM education. Roses brought his son (pictured) to the Laboratory on Take Our Daughters and Sons to Work Day to learn about the Lab and various careers.
Rick Roses started working at the Laboratory's Livermore Field Office in 2006 as a fire protection subject matter expert (SME) and functional area manager for fire protection safety. His job also includes working as an explosives safety SME and functional area manager for explosives safety, CAS functional area manager, Integrated Assessment Planning program lead and Non-Proliferation program manager.
"I wanted to work at the Lab first and foremost to serve my country, and also to end my career with federal service," Roses said. "There were many factors about LLNL that appealed to me, such as the campus environment, work-life flexibility and the proximity to leading-edge science. I take pride in serving the U.S. government, contributing to the national security and acting as the taxpayer's steward of our national resources (money, people and infrastructure)."
Roses likes helping others by volunteering his time in a wide array of work-related and extracurricular activities, including Boy Scouts, Little League baseball, music and athletic boosters and more. "When I can, I mentor and tutor underserved communities on STEM and general education," he said.
Roses has volunteered his time tutoring underserved students in Amidon-Bowen Elementary School in Washington, D.C., and has given a presentation about LLNL women and minority STEM role models at the Inspire Learning Institute's STEM Summer Camp, using multiple learning modes to engage the students. He also taught the students simple machine concepts (levers, pulleys, etc.) and gave an introduction to robotics using Lego products. Currently, Roses is participating in a series of STEM education webinars offered by the Department of Energy.
"Volunteering for STEM is gratifying and rewarding," Rosas said. It feels good knowing that you helped others learn about and gain appreciation of the STEM fields, and hopefully leading to better opportunities in the future.
"My mother has been my greatest inspiration in life, due to her upbringing to be industrious and her emphasis on moral and ethical virtues," he said. "She led by example, immigrating to the U.S. soon after my father died, holding two jobs as a single mother to raise four kids, all while maintaining her integrity and her values. Even though she had a higher level occupation in the Philippines with a degree in commerce, she worked at whatever job she could find to provide and support her family. As a minority woman immigrant, her job prospects were limited. She made sacrifices to provide her children with the best opportunities, and without any complaints or any social service assistance.
"Other role models of mine include relatives who were indomitable, dedicated and morally steadfast, as well as teachers and professional mentors that inspired and motivated me to do better. Serving in the U.S. Marine Corps showed me that anything is possible, and that sacrifice is bearable with the right cause. Finally, religion and Christian values are my constant inspiration and guide."
Roses' upbringing and stories of his ancestors have influenced who he is today. "My mother, as a young teenager, assisted the guerrilla fighters in World War II by sending messages through hidden notes, while my father similarly and separately assisted in carrying ammo and supplies. My grandfather, retired from the U.S. Navy, endured two years of torture and eventual execution in WWII, without losing his integrity or principles. A grand uncle, who was a fearless go-getter, survived the Bataan Death March and later became a guerrilla fighter. All of these stories are always at the back of my mind and inspire me to do the right thing and serve others."
Roses describes himself as family-oriented, independent and open-minded. In his spare time, he enjoys traveling with his wife, meeting new people, appreciating new cultures, learning new languages and spending time with his 10 grandchildren. When time permits, Roses also enjoys gardening and other outdoor activities.