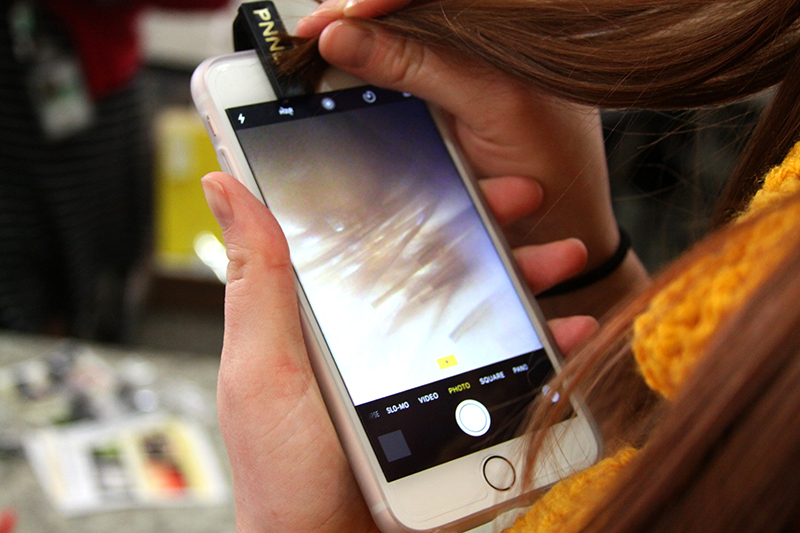 Users discovered items the device could magnify, such as yarn, human hair, and flower petals.
Employees lunching on Friday, January 15, in the Department of Energy headquarters cafeteria received smartphone microscopes and a mission: Engage five students over Martin Luther King Jr. Day of Service in a STEM conversation using the device.
Employees from the DOE Office of Economic Impact and Diversity, including Director Dot Harris and fellow Melinda Higgins, recruited employees from many offices to participate in the STEM outreach event training.
"The broad participation goes to show how people from all areas can work to increase STEM literacy and awareness," Higgins said.
"This is a great way to show innovative technology, using an existing technology such as the camera on your smartphone and improving and creating something new such as the microscope," Higgins said. "This one device can be used to explain the physics behind light and microscopy, the structure and patterns of different substances on a microscopic level as well as the ability to analyze data that is collected to study as images."
Participants in the STEM outreach event demonstrated using the microscope with grains of salt, tape, and flower petals. The clip-on device magnifies items 100x.
"I can tell you right now my kids are going to be looking at a lot of bugs on this thing," said one employee, who said she was excited to share the device with her daughters.
Higgins and her colleagues encouraged microscope recipients share the micro-images they took on social media using #microSTEM. The design of the microscope is open-source so anyone can make one. Learn more and watch a video about the microscopes, where they come from, and how they're made here.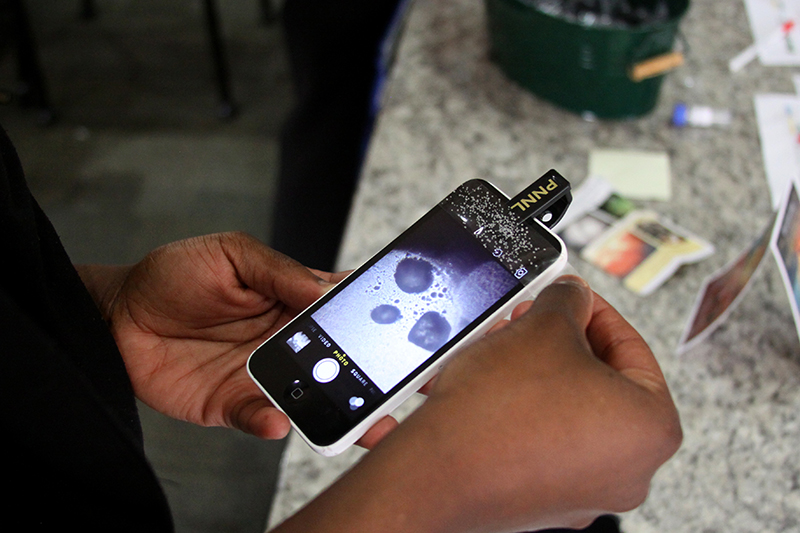 The smartphone microscope magnifies objects it views 100x on the user's smartphone camera.