You are here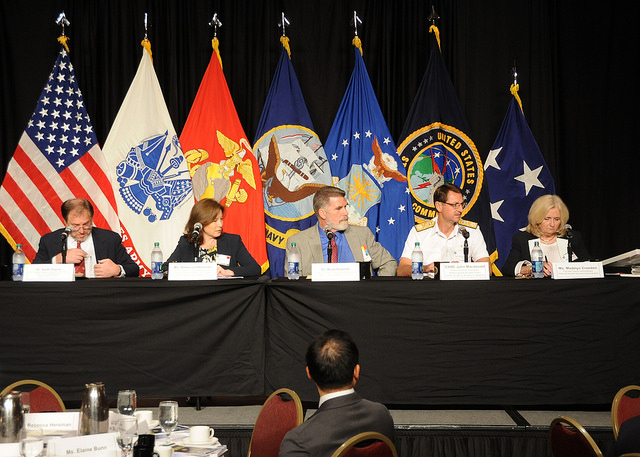 Last month more than 650 experts representing government, military, and academic institutions gathered for the U.S. Strategic Command's (USSTRATCOM) 2016 Deterrence Symposium. The sixth annual deterrence symposium drew from a broad range of expertise to exchange views on deterrence issues during the two-day event in Omaha, Neb.
NNSA's Principal Deputy Administrator Madelyn Creedon participated in the symposium and moderated its first panel, which asked, "Given the complex & rapidly changing security environment, how do we ensure our deterrent and assurance capabilities remain credible?"
"This conference provides an excellent opportunity to share ideas about some of the challenges and threats we face now and into the future," said Creedon. "Our nuclear deterrence policies require sustained critical thinking to ensure that they keep pace with the dynamic international security landscape."
Creedon's panel featured Rebecca Hersman, Director of the Project on Nuclear Issues at the Center for Strategic and International Studies and former Deputy Assistant Secretary of Defense for Countering Weapons of Mass Destruction; Dr. Brad Roberts, Director of the Center for Global Security Research at the Lawrence Livermore National Laboratory and former Deputy Assistant Secretary of Defense for Nuclear and Missile Defense Policy; Commodore John Macdonald, Head of Chemical, Biological, Radiological and Nuclear Policy for the UK Ministry of Defense; and Dr. Keith Payne, CEO and President of the National Institute for Public Policy.
Other panels included discussion about integrated capabilities, the future of arms control, changes in the Middle East, and alliances with academia to foster new thinking on nuclear deterrence.
"Today, some question whether deterrence theory is still relevant in the world we live in. I can assure you it is. Our deterrence mechanisms continue to contribute to strategic stability," said USSTRATCOM Commander, Adm. Cecil D. Haney.
"Because strategic stability is vital to our national security, I cannot stress enough the importance of deterrence forums like this that challenge our thinking and build greater understanding," he said.
USSTRATCOM's mission set includes strategic deterrence, while NNSA is charged with ensuring the that nation's nuclear stockpile remains safe, secure and effective. Read more about the event in USSTRATCOM's announcement and the symposium website, and stream video of the panels and speakers here.
The panel Ms. Creedon moderated is below: