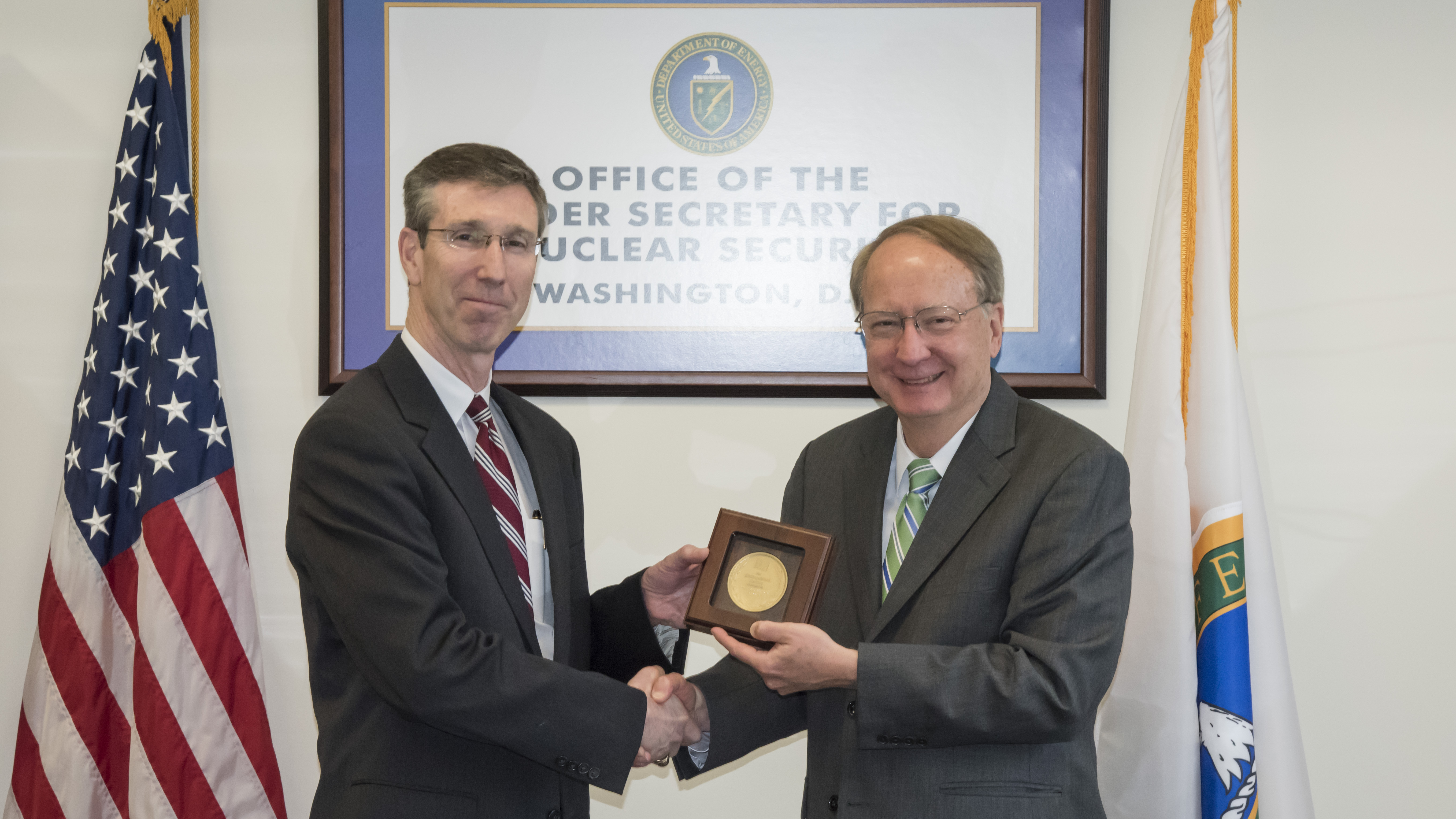 Last week DOE Under Secretary for Nuclear Security and NNSA Administrator Lt. Gen. Frank G. Klotz (Ret.) presented the agency's Assistant Deputy Administrator for Nonproliferation Research and Development (R&D) Dr. Rhys Williams with the Distinguished Service Gold Medal Award at a ceremony at NNSA headquarters in Washington, D.C.
Williams was recognized for his accomplishments over a 24-year career at DOE, and for his leadership in innovating capabilities to detect, identify, locate and characterize foreign nuclear weapons program activities, illicit diversion of special nuclear materials and global nuclear detonations. Prior to leading the R&D Office, he served as deputy in that Office, leading development of programs to directly support global nonproliferation, arms control, counterterrorism, and incident response. His work has helped ensure the security of U.S. nuclear assets.  
"As one of the Nation's leading experts on nuclear nonproliferation R&D, Dr. Williams has unquestionably played a key role in revamping the R&D function in the Office of Nuclear Nonproliferation and has played an important leadership role in securing our nation," said Deputy Administrator for Defense Nuclear Nonproliferation Anne Harrington. "His service to the NNSA and the United States is greatly and sincerely appreciated, and we will miss having him as a member of our leadership team."
William leaves NNSA this month to serve as Director of Research and Development at the Defense Threat Reduction Agency.
Learn more about NNSA's nonproliferation mission and the research and development that support it.