You are here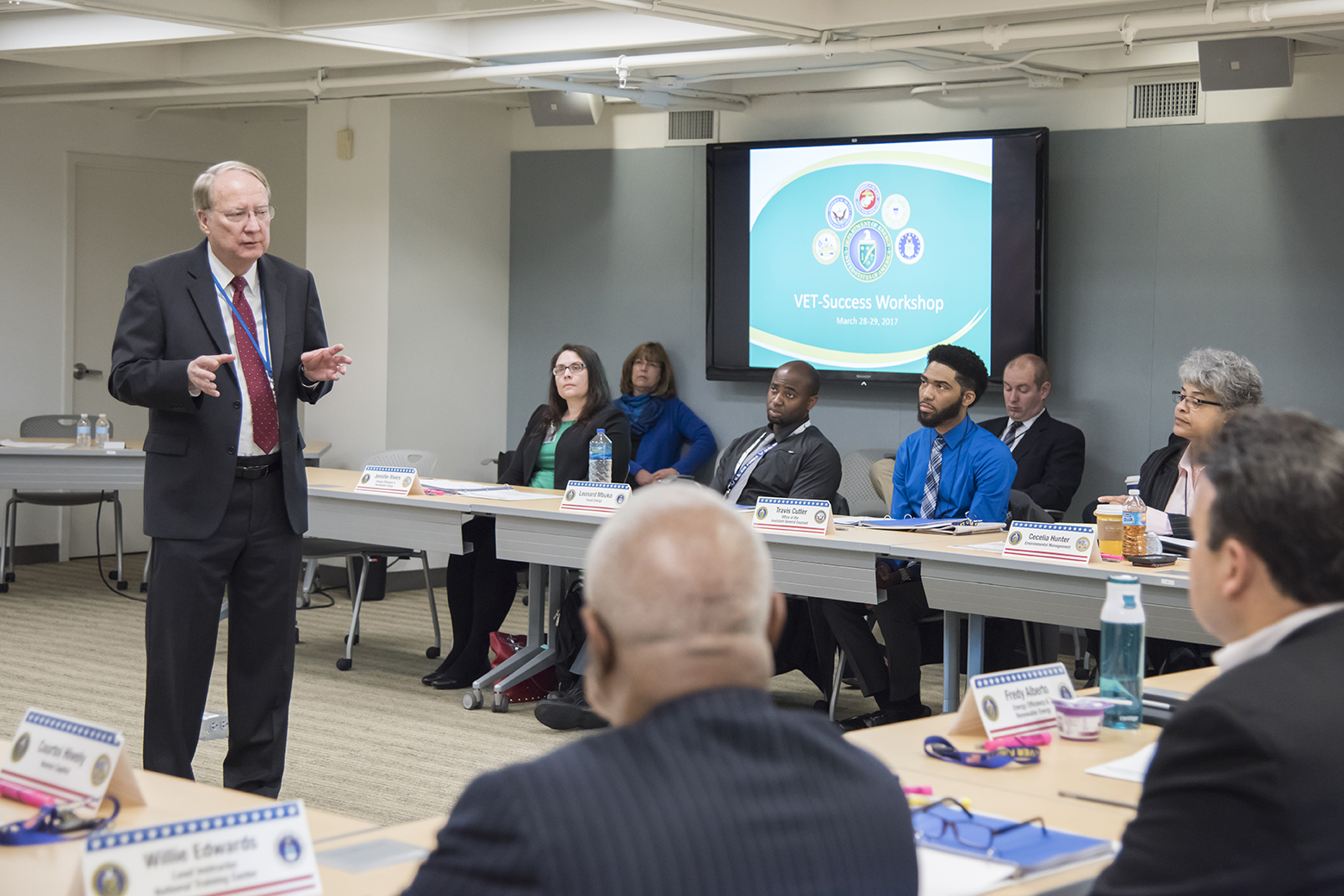 NNSA Administrator Lt. Gen. Frank G. Klotz (Ret.) spoke March 29 at a two-day Department of Energy (DOE) VET Success workshop, a National Training Center program to assist new DOE federal employee veterans with their transition to the department.
"I'm a veteran, and I've observed first-hand the sacrifices made by the men and women who wear the uniform and their families. The nation owes you a special debt of gratitude," Klotz said.
VET Success is a program developed by veterans for veterans. Marine Corps Colonel Russell Smith (Ret.) of the VET Success development team said the workshop is part of DOE's efforts to provide veterans with opportunities to contribute to the DOE mission.
"I was deeply impressed and inspired by the VET Success Workshop," said Dr. Frederick Soto, a senior manager in diversity and inclusion at DOE's Workforce Management Office and a veteran of the Army. "I was moved that NNSA leadership is making sure all employees, and especially veterans, have the support, resources, and information to ensure their continued success."
"It was also heartening to be reminded of the diverse experiences, skills, and specialized military training that we bring to the civilian workplace," Soto said.
In addition to his support for the VET Success workshop, Klotz highlighted additional programs at DOE for veterans that demonstrate the department's values.
Last year DOE announced a joint program with the Department of Defense called Solar Ready Vets, which provides training to help military personnel translate and build on their skill sets to transition to jobs in the solar industry.
DOE also partners with the Department of Veterans Affairs to provide on-the-job training for veterans through the vocational rehabilitation and employment program.
The DOE and NNSA national laboratories also recognize the qualities that former service members bring to their institutions and are taking active steps to recruit them.
Today, 33 percent of NNSA federal employees are veterans. In 2016, 38 percent of new federal hires were veterans, continuing a four-year rise in this percentage. In NNSA's Office of Secure Transportation, 100 percent of new hires last year were former military personnel.
Learn more about DOE veterans programs.