You are here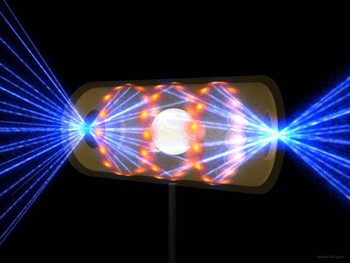 During the last week of March, researchers at the National Ignition Facility (NIF) at Lawrence Livermore National Laboratory (LLNL) demonstrated new flexibility in collecting data for stockpile stewardship by conducting a record 17 shots.
Researchers at NIF have traditionally aimed some or all of the 192 high-power lasers at a single target, then waited for the amplifiers to cool before the lasers were realigned and fired on a new target. The target experiments on NIF enable the study of matter at ultra-high temperatures and densities, which is a vital capability for the national labs to continue to certify that the U.S. nuclear stockpile remains safe, secure, and reliable.
For some experiments, scientists need only a fraction of NIF's beams. The NIF team greatly reduced setup and laser alignment time through a new mode of operation. They aligned all 192 NIF beams at the same time, then fired subsets of eight-beam bundles at different targets in rapid succession, known as "Gatling gun" shots.
The Gatling gun shots enable researchers to use many different experimental configurations in a single day, significantly reducing the time it takes to explore the many aspects of high energy density science.
For example, the record-breaking week of activities included backlighter spectral experiments. When struck by NIF lasers, a backlighter lights up with a burst of x-rays that allows researchers to see through materials with incredible detail, like a camera flashbulb. The flashbulbs "light up" differently, depending on the type of material in the backlighter. The only way to discover how they'll light up is to fire a test shot at each flashbulb. NIF researchers used the new multi-shot capability to test two sets of four kinds of materials each in rapid succession.
This change is among a wide variety of efficiency improvements to NIF equipment and procedures, leading to reduced time and effort for fielding experiments. Each of two sets of 4 shots was completed in about 14 hours.
"This record shot week produced a wealth of new data," said NIF Operations Manager Bruno Van Wonterghem. "This new operational mode will allow scientists to maximize the data return from their time on NIF. It was great work by the entire NIF organization to pull this off."
Learn more about NNSA's stockpile stewardship mission and read more about NIF at LLNL's website.