You are here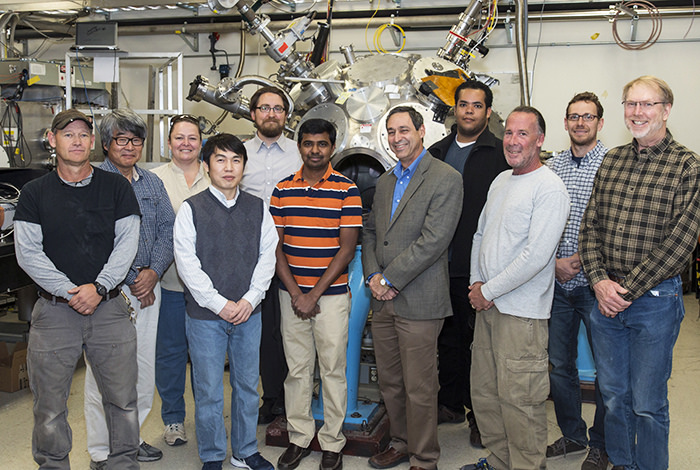 The team in front of Los Alamos' Trident Laser Target Chamber. Back, from left: Tom Shimada, Sha-Marie Reid, Adam Sefkow, Miguel Santiago, and Chris Hamilton. Front, from left: Russ Mortensen, Chengkun Huang, Sasi Palaniyappan, Juan Fernandez, Cort Gautier and Randy Johnson.
A transformative breakthrough in controlling ion beams allows small-scale laser-plasma accelerators to deliver unprecedented power densities. That development offers benefits in a wide range of applications, including nuclear fusion experiments, cancer treatments, and security scans to detect smuggled nuclear materials.

"In our research, plasma uses the energy stored in its electromagnetic fields to self-organize itself in such a way to reduce the energy-spread of the laser-plasma ion accelerator," said Sasikumar Palaniyappan of Los Alamos National Laboratory's Plasma Physics group. "In the past, most of the attempts to solve this problem required active plasma control, which is difficult."

Laser-plasma accelerators shoot a high-energy laser into a cloud of plasma, releasing a beam of ions, or electrically charged particles, in a fraction of the distance required by conventional accelerators. The laser generates electromagnetic fields in the plasma.