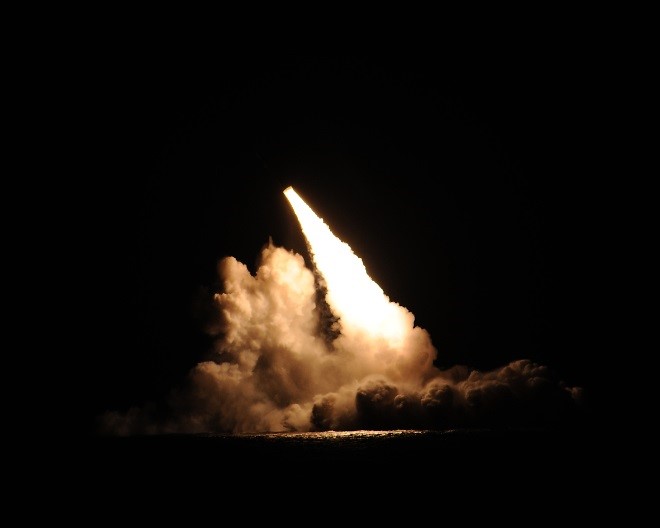 A successful test conducted by the U.S. Navy, in coordination with NNSA, marked the fourth of its kind in support of NNSA's W88 alteration (Alt) 370 program. The unarmed W88 warhead was launched atop a Trident II missile from the USS Kentucky at the Pacific Missile Range Facility in Hawaii as part of a test operation—referred to by the Navy as demonstration and shakedown operation 26 (DASO-26).
"As the fourth flight test of the W88 Alt 370 program, DASO-26 was instrumental in demonstrating important flight dynamics of the re-entry body," said NNSA Principal Assistant Deputy Administrator for Military Application Brig. Gen. S.L. Davis. "The program supports NNSA's goal of continuous improvement in certification of a safe, secure, and effective stockpile, while fulfilling the U.S. commitment not to perform underground nuclear explosive testing."
The test launch of the W88 warhead on Nov. 7, 2015, was the fourth successful qualification flight test for the W88 Alt 370 program. In 2014 the Critical Radar Arming and Fuzing Test successfully measured radar performance during atmospheric reentry, and last year the Follow-On Commander Evaluation Test-51 helped measure vibration and shock environments in flight. These full-scope tests demonstrate that the weapon system alteration is functional and in line with NNSA's commitment to complete development on schedule.
U.S. Strategic Command commander Adm. Cecil D. Haney, Navy Strategic Systems Programs commander Vice Adm. Terry Benedict, and several congressional members were aboard the USS Kentucky to observe the launch, while remote monitoring equipment—generating next-generation telemetry—transmitted data about the flight to ground and sea-based receiving stations. The information provided by these tests enables design and development teams to verify in-flight functionality and support ongoing development efforts. After launch, flight, reentry, and data collection, the unarmed warhead returned to earth in an open ocean area in the southwest Pacific Ocean. 
The W88 Alt 370 program is in Phase 6.3 of the nuclear weapons life cycle process. The program's scope includes design, development, qualification, and production of the W88 reentry body with a new arming, fuzing, and firing, lightning arrestor connector, trainers, flight test assemblies, and associated handling gear and spares. The program will also refresh the conventional high explosive material. The W88 Alt 370 first production unit is scheduled for December 2019.
The Navy's Strategic Systems Programs Office directed and managed operations for the flight, and the test was conducted in partnership with NNSA's Sandia National Laboratories, Los Alamos National Laboratory, Kansas City's National Security Campus, and Pantex Plant.
See all the Navy's photos of the occasion here, learn more about the NNSA's Life Extension Programs here.